Legal alligator hunts popular for some
FLORIDA CITY, Fla.— The Everglades region of South Florida have a lot to offer, depending on what it is that you are looking to do. One thing you could probably never imagine to do is go alligator hunting.
Well, if you thought that was impossible you were wrong.
In 2000, the Florida Fish and Wildlife Conservation Commission identified the development of a county-based alligator harvest program. They setup the harvest units in counties around the state.
While this activity is permitted in some areas of South Florida, it is not permitted within the boundaries of Everglades National Park.
| | |
| --- | --- |
| | Airboats are important equipment for alligator hunters to get to hunting grounds in remote locations (Photos by Tiffany Barranco). |
The Everglades area of western Miami-Dade County and eastern Collier County is one of the most popular spots to go alligator hunting in South Florida.
"It is where you can find the most alligators and probably with the most ease," according to Gabriel Fontela, an avid hunter.
Fontela has been participating in the alligator hunt for the past two years with his father. Each year they each come out with two alligators.
"Even if I didn't catch any alligators I would still do it. The thrill of the hunt makes it completely worth it," said Fontela.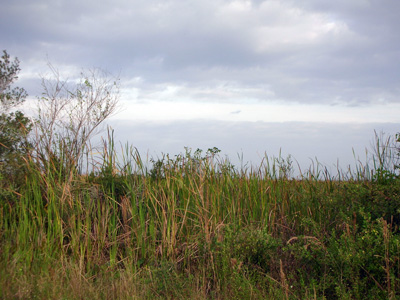 The annual alligator hunt takes place from Aug. 15 through Nov. 1. And comes with plenty of rules and regulations.
Any person at least 18-years old by Aug. 15 of the application year and who has not been convicted of violating Florida statutes or any commission rules relating to the illegal taking of any crocodile species for a period of five years, or for 10 years if the conviction involved taking an endangered crocodile, can participate in the hunt.
In order to participate in the hunt, however, you must apply for permits.
Applicants must submit payment for an alligator trapping license plus $20 for two hide validation tags or provide proof of a valid alligator trapping license that is valid through Nov. 1.
The cost of the alligator trapping license is $252 for residents of the state and $1,002 for nonresidents. Hunters can obtain additional permits after purchasing an alligator trapping license. The cost for additional permits is $62 for two hide validation tags and is not refundable.
Once you have received the permits and licenses needed to participate in the alligator hunt, you are assigned a specific period in which you are able to hunt.
Each hunter is assigned to one of four periods. The periods are assigned based on availability and the hunter's preference on the application. The harvest permit will specify the harvest period.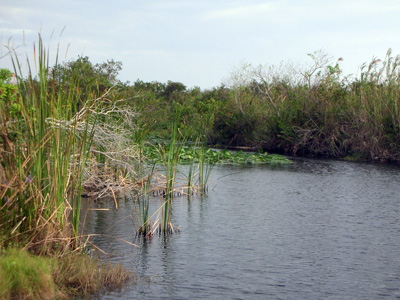 The harvest periods are from one hour before sunset through one hour after sunset.
Period one is Aug. 15-22, period two is Aug. 22-29, period three is from Aug. 29 to Sept. 5, and period four is from Sept. 5 through Sept. 12.
All participants also will be allowed to trap alligators from Sept. 12 through Nov. 1.
If hunters have any unused tags, they may use them during this time. The hours to hunt during this period are the same as the other periods.
Each permit allows a hunter to take only two alligators. If additional permits are available, then the hunter may apply for an additional permit.
However, a person cannot give his/her permit to another person to use. The permit to trap an alligator may only be used by the person who applied for it.
There are different methods to hunting the alligators.
According to the Florida Fish and Wildlife Conservation Commission, participants may take alligators using hand held snares, harpoons, gigs, and snatch hooks; manually-operated spears, spear guns, crossbows and bows with projectiles attached to a restraining line; and baited, wooden pegs less than two inches in length attached to a hand-held restraining line.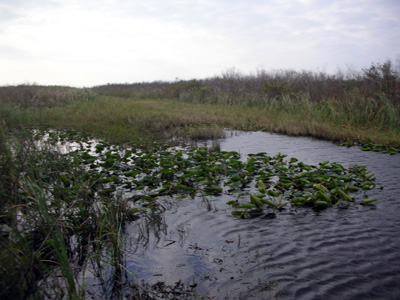 "I usually use a crossbow to go gator hunting," said Gabriel's father, Albert Fontela.
The use of baited hooks, gig-equipped bang sticks, or firearms for taking alligators is prohibited.
An exception is made permitting bang sticks to be used for taking alligators attached to a restraining line.
Some people get out to the harvest units by boat. The use of airboats to get to the harvest units depends on whether the local or regional government allows it in different waterways.
In order to be certain as to whether boats can be used contact the appropriate city, county, or water management district in the county where you are permitted and ask about the specific area that you would like to hunt.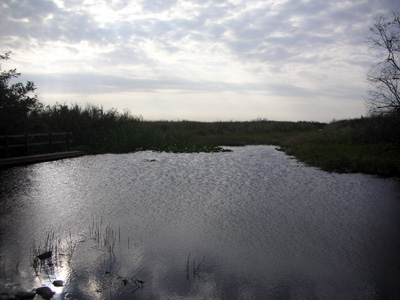 For the most part, if you receive a countywide alligator harvest permit, you can hunt on any area that you can legally access in a specified county.
Privately owned lands are prohibited alligator hunting ground, unless of course you have received permission of the landowner.
The most important thing to remember if you decide to go alligator hunting is to follow the rules and regulations the FWC places on the hunts and use precaution when handling the animals.
State Regulations Governing Alligator
Trapping, Permitting, Taking and Sale
No person shall take non-hatchling alligators from the wild except as provided herein and under other applicable rules of the Commission.
(h) Immediately upon killing, a CITES tag issued by the Commission and a harvest tag, if issued, shall be locked through the skin of the carcass within six inches of the tip of the tail. The CITES tag shall remain attached to the alligator hide until the hide is tanned, taxidermy mounted, or exported from the state. The harvest tag, if issued, shall remain attached to the alligator until processing. CITES tags shall be used only one time, and the possession of any alligator hide not tagged as prescribed herein is prohibited, and such hide shall be subject to seizure and forfeiture to the Commission under the provisions of Section 372.73, F.S.
(i) An alligator harvest report form (FWC form 1001AT, effective April 30, 2000) provided by the Commission shall be completed by the permittee within 24 hours of taking each alligator and prior to the transfer of the carcass to another person. The permittee shall submit a legible copy of the alligator harvest report form to the Commission for receipt no later than 14 days after the expiration date of the harvest permit.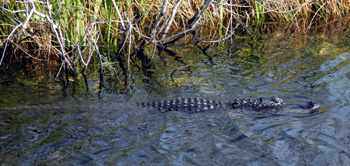 j) Tags issued under this section shall remain the property of the Commission until affixed as provided herein. Tags issued pursuant to this section may be possessed only by the permittee or his licensed agents prior to use. The permittee shall be strictly liable in ensuring that possession of unused tags is limited to persons authorized under this rule.
(k) All unused CITES tags shall be returned by the permittee to the Commission no later than 14 days after the expiration date of the harvest permit. It shall be a violation of this section for any person to possess any unused CITES tag(s) issued pursuant to this section 14 days after the expiration date of the harvest permit. Permits may be denied, pursuant to Rule 68A-5.004, F.A.C., to applicants who have previously failed to return unused tags and complete forms as specified herein.
(4) Alligator processing and sale of parts.
(a) Alligator meat not discarded shall be processed or sold in accordance with Rule 68A-25.052, F.A.C.
(b) Commission personnel shall be granted access to collect biological data on and specimens from any alligators taken under the provisions of this rule, provided that specimens shall only be taken when necessary for the management of the species.
(5) Nothing herein shall prohibit the executive director from establishing special restrictions or exemptions from this rule for the purpose of conducting experimental alligator harvests on designated areas pursuant to Rule 68A-9.002, F.A.C.
For more information contact:
Florida Fish and Wildlife Conservation Commission, Farris Bryant Building, 620 S. Meridian St., Tallahassee, Fla. 32399-1600, telephone: 850-488-4676, http://www.myfwc.com.