Traveling trunk reveals Jones family, history
HOMESTEAD, Fla.– The history of Biscayne National Park can now be brought inside the classroom.
The park features a new traveling trunk titled "A Picnic at Porgy Key" for teachers to use in Broward, Miami-Dade and Monroe Counties. Students and teachers will get a hands-on learning experience from the materials found inside of the trunk. This trunk teaches students about the history of Israel Jones and his family's contribution to the park. This hardworking family crossed boundaries as pioneers in the Florida Keys where they lived and worked for nearly a century. 
"It is a way for kids to learn without actually going out on a boat," Chris Beers, Biscayne National Park interpretive ranger, stated.
| | | |
| --- | --- | --- |
| | | Click on the video at left to watch an audio slide show about the Traveling Trunk program at Biscayne National Park, narrated and photographed by writer Olivia Woolbright. |
What makes their story so extraordinary is the fact that they were African Americans. During this time, blacks had limited rights and were not likely to succeed. Typically, when you think of black history, you think of oppression and negativity but for this family it was different. What the Joneses did was unexpected and seemed impossible under their circumstances.
Born in Raleigh, N.C., Israel Jones became an important figure in Florida history. In 1892, Jones went to Florida for work. Five years later, he bought the island of Porgy Key for only $

| | | |
| --- | --- | --- |
| Biscayne National Park's Traveling Trunk makes an appearance at a South Florida school (Photo by Olivia Woolbright). | | |
Later Jones, along with his wife, Mozelle, and two sons, King Arthur and Sir Lancelot, purchased a house on the island of Old Rhodes. He cleared the land completely by hand. Jones began growing pineapple and lime trees. Their farm became one of the largest producers of pineapples and key limes on the East Coast of Florida.
He bought Totten Key in 1911 and used all 250 acres as a pineapple plantation. This proved to be a great investment because he bought the land for $1 but later sold 212 of the acres for $250,000.
When Jones died, he gave ownership of Totten Key to his sons. In 1935, the brothers took up guiding and bone fishing. They continued running their father's key lime business until 1938. Arthur died in 1968, which left Lancelot to live on the island alone. 
The area known as Islandia (chain of 32 islands from North Key Largo to Soldier Key) was declared a national monument.  Lancelot lived within the boundaries of this area along with parks rangers. He wanted more than anything to preserve this land; so, he sold his share of the island to the National Park Service in 1970. He was paid $1.2 million. Sadly, in 1982 the Jones family home burned down and Lancelot later moved off the island. He died at the age of 99.
| | | |
| --- | --- | --- |
| | | Biscayne National Park Ranger Chris Beers presenting trunk to an elementary school. |
The Joneses had many achievements despite the adversity they faced. This story is inspirational and is not just part of African American history but the history of South Florida. Biscayne National Monument became a national park in 1980. Today, the Jones home can only be reached by a shallow draft vessel.
Biscayne National Park is looking for ways to stabilize the home's foundation. They are trying to create a way for people to visit the site without causing further damage.
| | | |
| --- | --- | --- |
| At right, the Jones Family. Below, Israel Jones (Photographs courtesy of the National Park Service). | | |
The travelling trunk brings the story of the Jones family to life. Once a reservation has been made, the trunk will be sent to the requesting school. The trunk has different activities that are written for fourth graders, but can be adjusted to suit any grade level.  Some of the activities include "Sponging in the Keys" and "Fishing with Lancelot".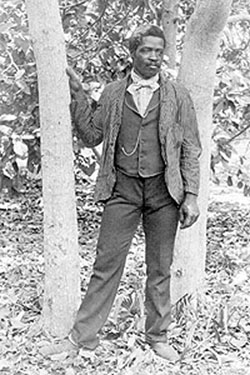 "I think it is a wonder way to teach students about the park," Barbara Eaton, fourth grade teacher at Pinecrest Elementary School, stated.
"I liked that the lesson plans were geared toward fourth grade social studies. Biscayne does a great jot creating things for students."
The activities follow the history of the park in chronological order. The trunk also comes with lesson plans and supplies to guide teachers and increase the learning experience.
"Students will learn that this is their history and it is their job to manage these resources," Beers stated.
Interested?
To reserve A Picnic at Porgy Key: The Travelling Trunk 
Call 305-230-1144 ext. 08.

Or
Visit the park's website at http://www.nps.gov/bisc/forteachers
Shipping costs will be covered by the park.