Stiltsville celebrates Biscayne lifestyle
KEY BISCAYNE, Fla. — Stiltsville is a group of seven wood stilt houses located on Biscayne Bay, roughly one mile south of Cape Florida at the tip of Key Biscayne.
Seemingly floating above the bay's shallow seagrass beds, these houses stand on wood or reinforced concrete pilings, generally about 10 feet above the shallow water, which varies from one to three feet deep at low tide.
| | | |
| --- | --- | --- |
| Click on the video at the right to view an audio slideshow about Stiltsville's colorful history prepared and narrated by writer Alexis Kanarek. | | |
"It's the place to be, it's beautiful, and it's just a wonderful place," said Gale Baldwin, chairman of the Stiltsville Trust. "You have 360-degree views and you are in the middle of the water, looking back at the city."
Now a part of Biscayne National Park, through a set of complicated legal battles, the Stiltsville community and its vibrant history dates back to the 1930s, when the infamous "Crawfish Eddie Walker" built the first house on stilts above submerged state-owned land.
"The conflict was over the fact that the park wanted to tear them down and once they conceded there was no more fight," said Baldwin. "The purpose was to preserve the houses and we reached a compromise, in which the park owns them and we, the Stiltsville Trust, rent them."
Stiltsville remains a useful landmark and is currently available to the public by contacting the Stiltsville Trust or Biscayne National Park. It may be used for community meeting spaces, small events, a Biscayne National Park Visitor Center, camera shoots and artists-in-residence program, just to name a few.
"If you have the financial means to do so, you could make arrangements with the Stiltsville Trust – paying all the costs associated with opening and closing the building, running the generator, and getting there – to have access to the buildings for your wedding, party, school group, scout group, or whatever it is," said Gary Bremen, Biscayne National Park ranger and spokesperson. "All that is done through the Stiltsville Trust and their website."
| | | |
| --- | --- | --- |
| On a day without visitors, one of the Stiltsville homes rests in Biscayne Bay (Photos by Alexis Kanarek). Below, two additional views of the houses within Biscayne National Park. | | |
The houses also serve as warning signs for boaters navigating the complicated channels of the area, many of which would run aground and damage the environment without them.
"My friends and I pass by Stiltsville all the time when we are boating in the area," said Kyla Knyper, a 21-year-old student at the Miami International University of Art and Design. "Even though we have never been in any of the houses, it is a fun and beautiful place to anchor and hang out."
Although boaters looking for a good time tend to trespass, access to Stiltsville is by permission only and planning for further uses is in the works.
"There is a combination of things going on as far as public use is concerned," said Baldwin. "Individuals can rent them for a day, for 6 to 8 hours, have a function, a wedding, or whatever people want to do as a group."
The Stiltsville Trust's usage guidelines vary for, for-profit corporations and individuals and families.
Daily rental for individuals and families is $1,000, which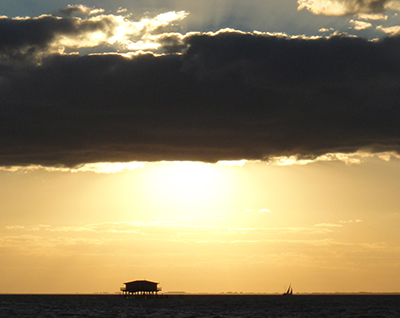 must be paid at time of reservation, in a check made payable to the Stiltsville Trust, and $50 per person.
There is also a cleaning and damage deposit of $400 that must also be made at the time of reservation, but will be returned if the house incurs no damage. In addition, guests will be charged a $40 fee, per hour with a minimum of six hours, to cover house engineers.
Those renting the homes are required to sign a use agreement and, if one decides to reschedule less than a week before the event, they are subject to a $250 fine.
Although the trust provides general liability insurance once on the property, those using personal boats or watercrafts must present proof of insurance and those chartering must acquire a special permit from Biscayne National Park.
"By in large, the houses have always been weekend retreats and that's really the biggest function, but there are also photography classes, and some of the high schools in the area host classroom functions," said Baldwin. "We also cater to girl scouts, boy scouts, Indian princesses and anything of that sort, in addition to groups of people that have kids who have never been out on the water before."
Stiltsville is also commonly used for commercial purposes as the setting for advertisements and venue for product release parties.
"Right now we are doing a commercial with West Elm, the furniture store, and they are going to film a video or take some still pictures of the furniture in the setting," said Baldwin. "We also entertain companies like Moet Chandon and BMW when they want to introduce a new product and they want to use Stiltsville as the venue."
When Moet Chandon introduced their new product, they invited people from all over to this one-of-a-kind location.
"BMW did the same thing," said Baldwin. "They invited 100 of their top salesmen from around the world to come down and be part of the introduction of their new car model, for this coming year."
Although the park doesn't have boat tours specifically for Stiltsville, Island Queen Cruises and HistoryMiami, located in Key Biscayne, offer independent boat tours of the area. The three-hour tours, which depart from Bayside Marketplace in Downtown Miami, focus mainly on Stiltsville, but also include Cape Florida Lighthouse and Key Biscayne.
Throughout the boat tour, which is narrated by known historian Dr. Paul George, passengers are given a detailed explanation of the area's past, while cruising and enjoying the beautiful bay. In addition, those on board are given the opportunity to take up-close pictures of the houses to take home as souvenirs.
"It's a neat place," said Bremen. "At the Biscayne National Park Visitor Center (in Homestead), we have a 28-minute documentary on Stiltsville, called "Stiltsville: Generation of the Flats," that was done by the local PBS station."
Stiltsville, this "only-in-Miami kind of thing," is a one-of-a-kind place and a natural treasure that due to lack of regulation, throughout the years, has been rundown.
At one time, there were as many as 27 of these houses on stilts that were used for weekend retreats and partying, but rarely for full-time living. Accessible only by water, these privately owned shacks quickly became exclusive hangouts for prominent Miami businessmen and the place to be seen when visiting nearby resorts on Miami Beach.
"In the 1930s, during prohibition, they had speakeasies and all kinds of illicit activities going on out there," said Bremen. "They didn't really live there and, if you watch this documentary, you'll see that these were kind of weekend hangouts for folks of some means."
Stories of illegal booze and gambling, accompanied by flashy women, gave Stiltsville an aura of mystery that still remains today. It was a renegade village where, according to a 1967 publication of Argosy magazine, "weekend residents live by their own laws," partying day and night with no remorse and an "anything goes" attitude.
"There was the Calvert Club and the Quarterdeck Club, there were dens of ill repute, and all kinds of interesting stuff going on out there," said Bremen. "All within Miami."
During the 1950s and 1960s, Stiltsville underwent a transition from shack to lodge. Most of the houses that still stand today, which form part of the Stiltsville Trust, were built during this time. These include the Leshaw House with its unique roof, the Baldwin, Sessions, and Shaw House with their distinctive shapes, and the Ellenburg House with its rich history.
In 1985, building owners faced an unprecedented dilemma, when the boundaries of Biscayne National Park were expanded to include Stiltsville. Due to the complexity of private property on state-owned land, state officials had, for the most part, left owners alone, until then.
However, when the State of Florida decided to deed the bottomland, on which the stilt structures sit, to the park, the National Park Service had fought that private homes did not belong there since 1976; when they requested that the Florida Department of Natural Resources examine a phased withdrawal of the leases owners had previously signed with the state.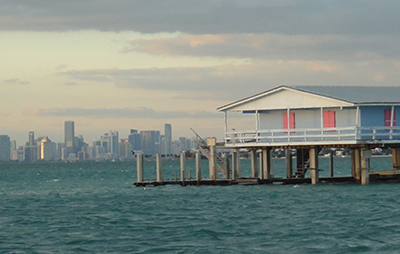 "How would you like to have a cabin on the rim of the Grand Canyon, at the top of Mount McKinley, or in the torch of the Statue of Liberty?" said Bremen. "That's just not what this is about, those are places that belong to everyone, so why should anyone have exclusive, private use of an area that belongs to everyone?"
But, the State Cabinet decided later that year, prior to this transfer of property, that the leases for the remaining 15 houses would be renewed for another 23 years. The National Park Service, in 1983, finally agreed to honor the owners' leases until they expired in July 1999, when they planned to demolish whatever remained.
In an attempt to save the houses from demolition, a year before the leases were up, owners began to petition the National Register of Historic Places to include Stiltsville on their list of historical properties. Although the State Historic Board conceded the request, the federal agency denied it.
Once again, the park notified homeowners that the houses would be demolished when the lease was ended, at their own expense, which incited substantial civic and political outcry. Many wanted Stiltsville to remain, while others wanted it gone.
"It was a big, long legal fight in which Ileana Ros-Lehtinen was very much involved and had all kinds of interesting proposals," said Bremen.
A six-month lease extension was granted, in order to resolve the problem, throughout which Congresswoman Ileana Ros-Lehtinen, while working with Save Old Stiltsville Group, proposed substituting Stiltsville with other state-owned lands in a bill she introduced to Congress.
"The problem with that is that you're creating in-holdings within a national park," said Bremen. "So then you have private land inside a national park and that's crazy."
Once again the lease was extended so that negotiations could continue. With The Miami Herald against them, owners urged Congress to consider the bill and remove the 3,900 acres surrounding Stiltsville from the park.
The U.S. House Resources Committee agreed to pass the bill and swap land with the park in order to save the houses and, with a new superintendent in charge of Biscayne National Park, they agreed to keep the houses and open them to public.
Many were still discontent with this arrangement, while some wanted them removed, homeowners still wanted them for themselves. However, U.S. Sen. Bob Graham approved the park's ownership and eviction notices were issued.
After further lease and eviction extensions and more legal fights, Biscayne National Park Superintendent Linda Canzanelli proposed the possibility of maintaining the structures and using them as part of the park, making them available to the public. She later formed a group that would tend to those responsibilities outlined in her proposal, including the maintenance of the structures and their regulated public use.
"So it was a long fight and, ultimately, what happened is that the people of the United States now own the buildings at Stiltsville, the former owners of those buildings all sit on the Stiltsville Trust, and they manage those buildings together," said Bremen. "The buildings are now part of Biscayne National Park, they were not taken away from anyone or given to anyone, they were kind of these entities that existed and it became a very complex situation."
With only seven structures still standing, after a 150-person party caused the collapse of one and Hurricane Andrew in 1992, took the rest, Stiltsville is now part of a national park and has withstood a series of natural disasters and legal fights.
The houses, which continue as weekend retreats for their owners, are now part of the Stiltsville Trust, a non-profit organization. With 15 trustees, seven of which represent the houses and the remaining eight of which represent the public, the trust is meant to preserve the structures and support both educational and interpretive services.
"What has happened is that we have reached a cooperative agreement with them," said Baldwin "We signed a ten-year commitment with them and we in turn maintain the properties, while providing some public use on a permit basis."
After two years of negotiations, both the trust and park were able to reach an agreement on how to manage this joint custody. Although certain details of the arrangement remain unsolved, the consensus now stipulates that the houses are open for public use as well as for the private use of owners.
In addition, similar to the state's 1965 rule, if the houses are damaged by more than 50 percent, they are to be removed.
"This transition has been very successful," said Baldwin. "It's a win-win situation for both the park and the former owners."
If You Go
Stiltsville Trust
Website: http://www.stiltsvilletrust.org
Seven Remaining Houses:
Baldwin, Sessions house
Jimmy Ellenburg house
Bay Chateau
Hicks house
Leshaw house
A-frame house
Miami Springs Power Boat Club
Biscayne National Park
Address: 9710 SW 328 St., Homestead, Fla. 33033
Phone: 305-230-1100
Website: http://www.nps.gov/bisc/index.htm
Island Queen Cruises
Address: 401 Biscayne Blvd., Miami, Fla. 33132
Phone: 305-379-5119
Price: $59 per adult and $25 per child
Website: http://www.islandqueencruises.com/stiltsville.htm
Schedule:
Boarding Time: 8:45 a.m. to 9 a.m.
Cruising Time: 9 a.m. to 11:30 a.m.
Arrive 30 minutes prior to the cruise departure.
Available on select dates only.
Departs from the middle of Bayside Marketplace, next to Tradewinds Bar and Grill.