Park plan will manage fishing in bay
HOMESTEAD, Fla..—With 95 percent of Biscayne National Park underwater, there is ample space to go fishing in Biscayne Bay.
However, if you are going to fish in Biscayne Bay, you should know about the new proposed Fisheries Management Plan and the important fishing regulations to help protect the population of fish in the bay.
| | |
| --- | --- |
| | The boardwalk at the Visitor Center at Biscayne National Park offers reserved fishing spots for senior citizens and disabled persons (Photo by Brad Goodis). |
The Fisheries Management Plan is a long-term plan to manage fish population throughout Biscayne Bay with the help of the park. The plan calls for dividing Biscayne Bay into different sections for fishing.
When it takes effect, one section of the bay will be open for fishing at a time, then that section will be closed and another section will be open for fishing. This is one way to ensure that the population of the fish in the bay will be able to replenish over time.
"The plan is trying to guide management actions to protect the park's fishery resources," said Park Ranger Carlos R. Mateo. "This will allow park visitors to have the best possible fishing experience," he said.
Originally developed in 2002, the plan is currently "in the works," said Mateo. The development of the plan is a public process and public involvement in creating the plan is essential to its success. However, the plan has to undergo different phases before it goes into effect.
| | |
| --- | --- |
| | A fisherman casts a line into the bay at Biscayne National Park (Photo by Stephanie Webber). |
"There's the draft phase, then the scoping phase and then public commenting for a year and then another scoping phase and then more comments," said Mateo. Due to the tedious nature of putting the plan into effect, Mateo and other park rangers doubt that the plan will come into fruition anytime soon.
"Maybe it will come into effect in about two years, but nobody really knows," said Park Ranger David Pharo.
Biscayne National Park is not a popular park for fishing. From November to April, also known as the heavier months, the park averages over 300 fishers per month that do not go on charter boats. Everglades National Park averages more than 1,000 fishermen and women per month during the same period.
"The park isn't as well known, Everglades is the first park that people think of in Florida," said Mateo.
This month April tallied 242 fishers, which is on average with the totals from May to October, also known as the slow season due to the hot climate.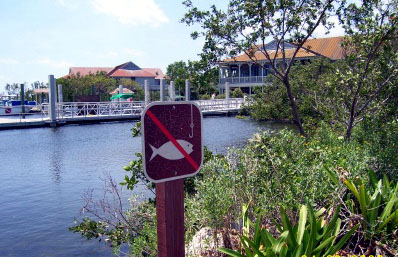 "Nobody's heard of Biscayne," said Mateo. According to him, the park gets a lot of "accidental visitors" that come to the park because they saw a sign for the park and were curious.
Despite the low numbers of visitors, upkeep on the fish population in Biscayne Bay is very important. Florida Recreational Saltwater Fishing Regulations are essential in maintaining high fish populations in Biscayne Bay.
The regulations include bag limits on all fish, such as snapper, snook, and dolphin to name a few. There are also regulations on what season crabs, crawfish, oysters, shrimp, seatrout, and snook can be fished.
Park rangers are very strict in making sure that fishers follow all of the regulations and if anyone fails to follow the rules they may have to throw their fish back in the water. Violators are also subject to fines, confiscation of boats and court trials.
"We've had our share of violators, but most of the time we just make them throw the fish back, nothing ever too major," said Pharo.
| | |
| --- | --- |
| Biscayne National Park rangers have marked approved Fascell Visitor Center fishing areas with signs such as this one for visitors (Photo by Stephanie Webber). | |
For more information about fishing regulations, go to the Florida Fish and Wildlife Conservation and Commission website, http://myfwc.com/marine/lines.htm or pick up brochures at many South Florida fishing supply shops.
Despite the regulations, many visitors still enjoy fishing in Biscayne Bay. Whether it brings them back to their childhood days or keeps them relaxed, fishing is fun for all of the visitors of the park.
"I've always enjoyed fishing. I used to fish when I was a little girl and I'm just getting back into it," said park visitor Maureen Johnson.
"I come here a lot and it's fun for me. It keeps me relaxed and now I'm trying to teach my kids," said park visitor Dave Williams.
If you're planning on taking a fishing trip, Biscayne Bay may be the perfect location. Just remember to follow all of the fishing regulations so that the fish in the Bay don't disappear from over-fishing.
| | |
| --- | --- |
| One of the boats used for fishing regulations enforcement within Biscayne National Park (Photo by Stephanie Webber). | |
If You Go
Research the Florida Recreational Saltwater Fishing Regulations: http://myfwc.com/marine/lines.htm
Dante Fascell Visitor Center:
Open : All year 9 a.m to 5 p.m., phone: 305-230-7275
Location: Nine miles east of Homestead, Fla., on SW 328 Street.
For more information about charter boats (not affiliated with the park): http://www.discoverbiscaynebay.org/where/parks_sportfishing.aspx
Important Fishing License Regulations to Remember:

When applying for a saltwater recreational fishing license, you are considered to be a Florida resident if you are:

Any person who has resided in Florida for six continuous months prior to applying for a resident license and who claims Florida as their primary residence.
Any member of the U.S. Armed Forces stationed in the state of Florida.

You do not need a license if you are:

Any child under 16 years of age.
A Florida resident saltwater fishing for recreational purposes from land or a structure fixed to the land.
A holder of a valid saltwater products license.
A nonresident fishing for recreational purposes from a pier that has a valid pier saltwater fishing license.
A Florida resident fishing for saltwater fish in freshwater from land or a structure fixed to land.