Festival fosters community of family, fun
HOMESTEAD, Fla. — For the past 14 years, Biscayne National Park's Family Fun Fest has fostered a loving community of family, fun and environmental education in South Florida.
Each season, December to April, the park opens its doors every second Sunday of the month to dozens of families. Every season brings new activities and themes for the whole family.
| | | |
| --- | --- | --- |
| Click on the video at the right to view an audio slideshow about Family Fun Fest prepared and photographed by writer Andrea Jacobo. | | |
Family Fun Fest opened this season with "The Hungry Games," a spin-off from the children's book, The Hunger Games. The theme focused on the animals of the park and what they eat for fuel.
"We like to keep up with the current trends to encourage our visitors to come back each year," said Park Ranger Gary Bremen.. "Last year, we had a huge success with "Harry Otter and the Chamber of Secrets, so we decided to keep bringing fun themes."
The families are welcomed at the Dante Fascell Visitor Center entrance and jump into their first activity, "If the Mouth Fits," where the kids have to match what tools in the bag to the beaks of the birds in the picture.
At this station, families are also given a Family Fun Fest Passport that will be punched at each station visited. There are a total of five stations.
"Buying Breakfast" is where the kids learn about water salinity and how it affects the fish's energy system by collecting food-energy tokens either in high or low salinity water."Live from the Capitol!" is a show imitating "The Hunger Games" in which different Biscayne Bay area animals are interviewed about their habitat, what they eat and why they're going to win the games.
| | | |
| --- | --- | --- |
| At right, Biscayne National Park ranger Gary Bremen talks with visitors during a recent Family Fun Fest (Photos by Andrea Jacobo). Below, visitors enjoy the activities at "The Hunger Games" fun fest. | | |
"Stealing Supper" and "Luscious Lunch" were joint stations where the kids would match the platters on display to the animals on their menus while learning how animals hunt for their food and what obstacles they may encounter.
Once all activities are completed, a button signifying participation in "The Hungry Games" is awarded to each child and his or her parents.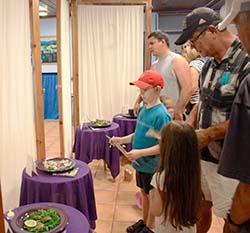 New to the program is the Family Fun Fest Junior, a station filled with activities that toddlers could do. With activities such as scooping fish from the small water tank like a spoonbill bird and creating art pieces for Family Fun Fest's Junior Art Club, every family member can learn about the environment.
"This is like an introduction to the major themes of the environment where the kids learn about what animals you find in the ocean to what an endangered species is," said Yelitza Sepulveda, a park ranger and creator of Family Fun Fest Junior.
For Dan McGoveren, who has been bringing his family to Family Fun Fest for the last six years, considers the events to be a great way for the kids to be involved with the park.
"My family and I love this park. My daughter is now a part of the Junior Ranger program and she loves to come to each Family Fun Fest event, " said McGoveren.
For veteran Family fun Fest Families like McGoverin's, BNP rangers and volunteers become an extended family thus creating a fun loving atmosphere for all, even new-comers.
"Definitely a great event for the family! The kids are learning about the environment, play outside, and be around kids their own age. Also, The ranger and volunteers make it fun for the kids and parents, " said Joseph Block, a first-time participant of Family Fun Fest.
However, families are not the only ones that love the family and educational atmosphere.
For Tonnette Coller, founder and executive director of Sweet Vine, an outreach and educational program for at-risk youth in Homestead and Florida City, she has been bringing her students to Family Fun Fest for 10 years.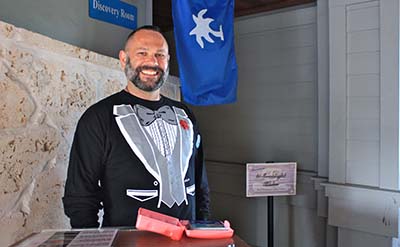 "In the communities where my kids are from, environmental consciousness isn't emphasized," said Coller "If it weren't for Family Fun Fest, our kids would not be able to come to Biscayne National Park and learn how important our environment is. Our program teaches them about environment, but here they get to learn by experiencing it."
For Katie Davis, 17, she's been coming to a Family Fun Fest since she was seven-years old as a participant and now is a volunteer.
"It has been really cool to see it grow and become bigger each year. I love it here so much, and it's great to see kids have fun just like I did when I was their age," said Davis.
Family Fun Fest's atmosphere is what contributes to its growth and increased popularity throughout the years.
"When we first started 14 years ago, we only had a budget of $50 and 25 participants. Once BNP started to see the benefits of Family Fun Fest and its turnout, we were able to receive more funding and sponsorship for the program," said Roger Boone, a park volunteer who has been helping with Family Fun Fest since it first started.
Today, according to Bremen, there are about 200 participants at each event and increases towards the end of the season.
As Family Fun Fest continues to grow by participants and activities, the BNP community continues to grow with it.
"Each year, Family Fun Fest becomes more exciting because we see familiar and new faces enjoy nature, and at the end of the event, you see how much they appreciate and love our environment," said Bremen.
| | | |
| --- | --- | --- |
| | | Yelitza Sepulveda, Biscayne National Park ranger and creator of Family Fun Fest Junior. |
If You Go
Biscayne National Park
Open daily from 9 a.m. to 5 p.m.
305-230-7275
9700 SW 328th St., Homestead, Fla.
Traveling from the South

Take U.S. 1 north (Overseas Highway) towards Homestead, and make a right on 328th Street (North Canal Drive), continue of the road for approximately nine miles, location is on your left.

Traveling from the North:

Take the Florida Turnpike south to Exit 6, Speedway Boulevard Make a left after the exit ramp, continue to go south, and make a left on 328th Street (North Canal Drive). Continue of the road for approximately nine miles, location is on your left.
Take U.S. 1 south to Homestead and make a left on 328th Street (North Canal Drive). Continue of the road for approximately nine miles, location is on your left.
Family Fun Fest 2014 Events
"Wrestling with Trash"—Jan. 12, 2014.
"Biscayne Wintergames"—Feb. 9, 2014.
"Down on the Farm"—March 9, 2014.
"A Sesame Street Salute"—April 13, 2014.