Elliott Key awakens senses, rekindles spirit
HOMESTEAD, Fla.—For most people, their idea of a relaxing getaway does not include a tent, bug repellent or a mosquito net.
However, putting materialistic pampering aside, if you are on the lookout for a retreat into nature to awaken your senses and rekindle your spirit, that isn't too far from civilization, camping on Elliott Key might be right up your alley.
Located in Biscayne National Park, the largest marine park in the National Park Service system, Elliott Key is a novice camper's paradise. Fresh water showers and restroom facilities make this a five-star luxury resort among campsites.
After a brisk ferry ride to the island, you will find all the essential amenities for your camping enjoyment. Equipped with picnic tables, grills and a fire pit (the only place a ground fire is permitted on the island), Elliot Key has plenty to keep you comfortable.
If a weekend get away for yourself and a few friends is what you're looking for, individual campsites can be rented for just $10, and include up to two tents or six people.
| | |
| --- | --- |
| | The dock and harbor area of Elliott Key at Biscayne National Park (Staff photo). |
Have a large group of friends and family members who wish to tag along? Group sites are also available for $25 and include up to six tents or 25 people. There is an overnight docking fee of $5 if you choose to drive your own boat to the island, however there is a park concessionaire who will gladly transport campers to and from Elliott Key. This helpful service is offered from November to May and requires reservations and a small fee.
With 95 percent of Biscayne National Park covered by water, there are many marine-related activities for your adventurous side. There are glass-bottom boat tours, canoe and kayak rentals, as well as scuba and snorkel trips daily. Biscayne Park, home to the world's longest coral reef with over 200 species of fish, is surely a spectacular sight not to be missed.
The island also boasts two hiking trails for visitors to enjoy, one seven-mile trail leading from the North side of the island to the South side, and a second three quarters of a mile loop-trail.
Lucas O'Brien, an avid camper who was raised in Miami, was surprised at the park's setting and scenery.
"I camp a lot, but I was amazed at the beauty Elliott Key had to offer. Hiking through the island gives you a different perspective of Miami, one you don't normally see."
Though Elliott Key offers many camping necessities, some of the things you might want to bring with you include food, trash bags, and water for drinking as well as cooking and of course bug repellent.
"Food needs to be kept in a locking, hard-sided container to prevent raccoons from causing a problem," Biscayne National Park Ranger Gary Bremen stated.
It goes without saying that campers are expected to leave the island as they found it, and since there is no trash pickup it is requested that campers collect any trash they produce and take it back to the mainland for disposal.
"It is a small price to pay for such a serene experience. With everything we humans have done to the environment it's nice to be able to give back and help keep our national park's clean." Said one camper, Robert Carrow.
With all the island has to offer its guests, you will undoubtedly be exhausted at night, but just to keep things peaceful after the sun goes down there are mandatory quiet hours from 10 p.m. to 6 a.m. during which campers are asked to keep noise to a minimum, turning generators and other machines off.
Bremen explained what he feels is one of the biggest misconceptions people have about camping on the island.
"Elliott Key is at once remote and urban. For people with less experience, the island is seven miles from 'civilization' with no stores, hot water, phones, computers, etcetera. For those with more wilderness experience, the island offers a boat harbor, restrooms, drinking water, cold-water showers, picnic tables, grills, and etcetera that are often missing from other wilderness locations" he said. Elliot Key is open year-round and campsites are assigned on a first come first serve basis.
"Hazards and dangers are in the eye of the beholder," said Bremen. "…The greater hazards are posed by mosquitoes, no-see-ums and raccoons."
With the ever-present population of bugs on the island a mosquito net will most definitely come in handy.
Despite these minor setbacks, camping on Elliott Key is the perfect way to get away from the hustle and bustle of city life with the comfort and convenience of showers and running water.
If You Go
Directions to Visitor Center at Convoy Point:
From the South: U.S. 1, drive north to Homestead. Turn right on SW 328 Street, and continue to the end of the road. It is approximately nine miles, and the entrance is on the left.
From the North: Convoy point can be reached from either the Florida Turnpike or from U.S. 1:
Florida Turnpike: Take the Florida Turnpike south, to Exit 6. Turn left from exit ramp and continue south to SW 328 Street. Turn left and continue to the end of the road. It is approximately nine miles, and the entrance is on the left.
U.S. 1: Drive south to Homestead and turn left on SW 328 Street. Continue to the end of the road. It is approximately nine miles, and the entrance is on the left.
Hours of Operation: The Convoy Point complex is open from 7 a.m. to 5:30 p.m. daily (closed Dec. 25) and the Visitor Center is open from 8:30 a.m. to 5 p.m.
Contact Information: Biscayne National Park, 305-230-7275.
Island Transportation: Offered November through May only. The fee is $35.95 round trip. A $2.50 fuel surcharge will be added to all adult and senior tickets. Advanced arrangement is required.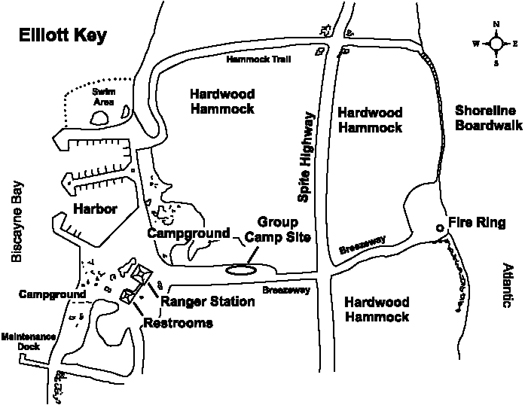 Map courtesy of the National Park Service.