Biscayne 'Fun Fest' designed for family visits
HOMESTEAD, Fla.— Biscayne National Park Ranger Gary Bremen founded Family Fun Fest more than four years ago to enhance visitors' knowledge about the environment while allowing families to connect with one another through hands-on park activities.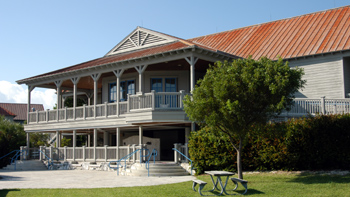 Family Fun Fest is hosted at the Fascell Visitor Center (Photos by Bruce Garrison)
Every first Sunday from 1 p.m. to 4 p.m., Family Fun Fest is held free of charge at the park's Visitor Center at Convoy Point.
Each family day contains a different theme and workshop to offer a variety of learning experiences.
Such activities have included boat trips, learning about animal tracks, plants and preserving the environment.
Bremen said he decided to form the program when he noticed how many families visited the park on Sunday afternoons.
"It started out with a small staff of two volunteers and three staff members. Now we have as many as 25 staff members for the program" said Bremen.
Family Fun Fest is always drawing in new participants. May 2 was the last class offered for the 2004 season. It consists of five classes beginning in January and ending in May. Plans for 2005 were being developed in mid 2004.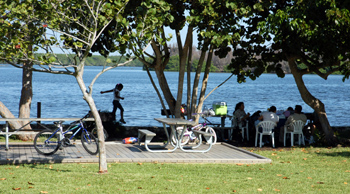 Family Fun Fest includes activities on the water's edge.
"Due to the very hot days during the summer, we stop the classes so that people are not in the sweltering heat," said Bremen.
At the end of each season, Bremen gives out Family Fun Fest Fanatic Awards to those who have shown their dedication by attending all five classes. This year, 26 awards were handed out to participants.
"I just want you to know that I really, really enjoyed this and I look forward to it every time," an 11-year-boy who attended all the programs told the ranger. Bremen said he recalled this comment after an event on a Sunday afternoon.
Not only are children inspired by Bremen's carefree idea, Dorothy Cooch, a mother who regularly brings her children to the events, recently told Bremen that "I feel as if Family Fun Fest is an important event…. Please continue the program because it would be a loss if you didn't."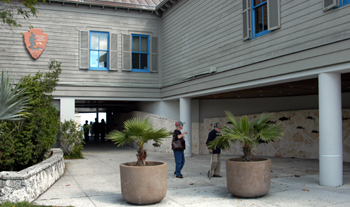 The Fascell Visitor Center hosts Family Fun Fest days.
Her comment was one of many provided in a survey the participants completed after their experiences.
Although the program will be discontinued during the summer months, Biscayne National Park will host its National Park Service birthday celebration on Aug. 29.
This event will feature a variety of Family Fun Fest activities that are sure to enlighten others about the importance of nature. In addition, the annual Halloween Hunt will be held on Oct. 31.
The park remains open daily during the summer months, despite rainy weather. There are glass bottom boat tours held daily from 10 a.m. to 1 p.m. for adults, children and seniors.
Snorkeling is available daily from 1:15 p.m. to 4:30 p.m. as well as scuba diving from 8 a.m. to 1 p.m. on Saturdays and Sundays.
These activities require a minimum fee. If you would like to obtain detailed information about any of these programs, please call 305-230-1100. Bremen may be reached at 305-230-7275. The Biscayne National Park Web site is http://www.nps.gov/bisc.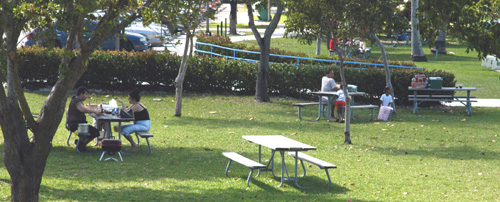 Picnics are a popular activity during Family Fun Fest days.