Center is gateway to Big Cypress history
OCHOPEE, Fla. — Walk into the Oasis Visitor Center at Big Cypress National Preserve and the first thing you're greeted by is a 14-month old panther.
But no worries, this cat isn't on the prowl; after being struck and killed by a car, the panther was stuffed and placed in a glass display. This is just one of the several exhibits found in the center.
| | | |
| --- | --- | --- |
| Click to see a video slide show of the Oasis Visitor Center at the Big Cypress National Preserve by writer and photographer Ashley Calloway. | |   |
The Oasis Visitor Center is a gateway to the history, resources and recreational opportunities of the Big Cypress National Preserve. It's a worthwhile stop if you're looking to enhance your trip to Big Cypress.
"A lot of people just drive through," said Park Ranger Nikki Hinds. "While it's great to see the preserve from your car, coming here you get ideas on how to really experience it. Get your feet wet—literally."
The "Wet and Wild Swamp Walks" are one of the ranger-led activities that are going on from November to April. Other activities include canoe trips, hiking and campfire programs.
| | | |
| --- | --- | --- |
| At right, the outside of the vistior center,  which offers information on the history, resoruces and recreational opportunities of Big Cypress National Preserve. Below, a panther is the first thing that greets visitors (Photos by Ashley Calloway). | | |
The literature on these activities is at the main desk of the visitor center, along with pamphlets, maps and news updates on wildlife. Right behind the desk is a park ranger, volunteer, or intern ready to assist any visitors.
This day, that ranger was Hinds, who skillfully answered questions and made suggestions for a more enjoyable visit. When a man comes in looking for a picnic area, Hinds not only showed him the closest spot on a map, but also pointed out a nearby boardwalk he might want to visit.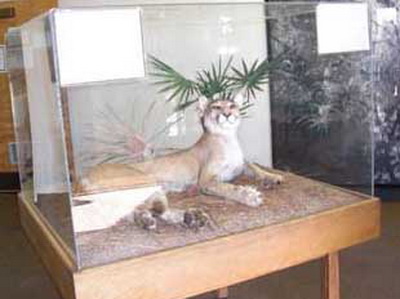 In addition to expert advice, the center offers virtual, interactive tours on a computer station.
You can look up information on things like habitat, wildlife and the human history of Big Cypress. Some topics even have short videos that are narrated by park rangers.
The walls of the Oasis Visitor Center are lined with visual displays that suggest activities, explain the preserve's research endeavors, and give a history of the panther in Big Cypress.
Behind wooden double doors is a television room that shows an introductory film on the preserve. A few steps away is the "Big Cypress Touch Table," which lets you play around with parts of alligator anatomy, or test your knowledge of animal coats.
At the center, you can also sign up for an off-road vehicle permit and learn more about the recreational activities they offer, like hunting.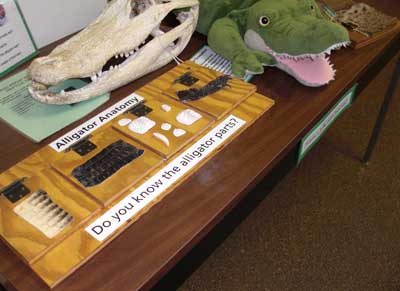 It is important to note that hunting, while allowed in Big Cypress National Preserve some parts of the Greater Everglades Ecosystem, is prohibited within the limits of the nearby Everglades National Park.
If you're looking for a souvenir, there are a number of books, magnets and postcards, and even national parks editions of the family board game Monopoly.
Hinds said that during the busy season, between December and February, the center can see around 400 people a day.
Annually, about 250,000 people visit the center. In February, park officials are opening a welcome center near the preserve headquarters to catch the people that are coming from the east, she added.
Hinds said she often gets questions about panthers and identifying wildlife. The biggest questions, however, are about the alligators: why are there so many at the center?
If you step outside and walk along the boardwalk, you'll spot quite a few alligators in the canal or lounging beside it.
| | | |
| --- | --- | --- |
| At right, using the computer station, visitors can go on interactive tours through the history and environment of Big Cypress. Next, at the "Big Cypress Touch Table" visitors can examine alligator anatomy and test your knowledge of animal coats. Last, alligators are frequently seen in or aound of the canal in front of the visitor center. | | |
"This is where you really can see the gators up close," said Kim Johnston, a returning visitor who stops at the center to take a break from motorcycling. "Usually there are a ton of them in here."
This viewing platform is also where the park rangers lead a thrice-daily 15 minute talk on wildlife.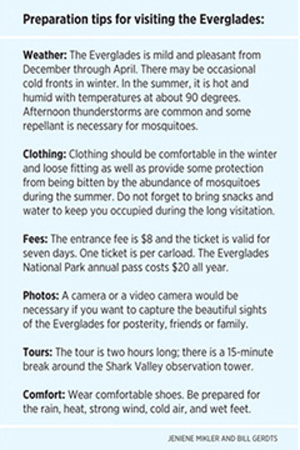 Park Ranger Cerisa Swanberg, who led the day's 2 p.m. talk, said she hopes to help people gain an appreciation and a better understanding of the animals, plants and ecosystems of Big Cypress.
She also wants to help people learn—from the visiting families who mistakenly bring a loaf of bread to feed the alligators, to those who haven't visited Big Cypress just yet.
"People may live in the city and not have any idea that this is an hour away," Swanberg said. "There's just such incredible wildlife."
Big Cypress National Preserve protects a portion of the Big Cypress Swamp, which is a watershed of the Greater Everglades Ecosystem.
"It is higher in elevation than the River of Grass to the east of us," explained Bob DeGross, Chief of Interpretation and Public Affairs at Big Cypress.
"It is made up of the same type of habitats seen in Everglades National Park: pines, hammocks, prairies, cypress swamp and mangrove."
However, DeGross said, instead of having large expanses of these habitats, like Everglades National Park, Big Cypress National Preserve is a "patchwork" of the habitats.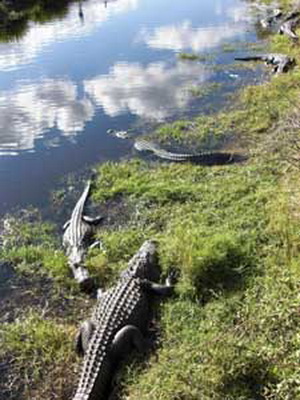 If You Go:
Oasis Visitor Center hours: 9 a.m. – 4:30 p.m., every day but Christmas.
The Off-Road Vehicle (ORV) Permit Office at the Oasis Visitor Center is open 9 a.m. – 3:30 p.m., every day but Christmas.
ORV inspections are conducted Fridays through Mondays.
The visitor center is located along U. S. 41, 50 miles west of Miami and 50 miles east of Naples.
The Big Cypress National Preserve headquarters is located near Naples and Everglades City, along U. S. 41, about five miles east of the State Road 29 intersection.
Please note that the Oasis Visitor Center offers public restrooms, fresh water, and plenty of parking spaces, but there are no food items or camping supplies for sale.
Information graphic designed and prepared
by Jenene Mikler and Bill Gerdts.