Tiny Ochopee post office draws visitors
OCHOPEE, Fla. — "Greetings from the Everglades, home to the largest horseflies ever!"
That's what one woman wrote on a postcard to her grandmother in Tampa Bay. A postcard she planned to mail from the nation's smallest U.S. Post Office.
| | |
| --- | --- |
| | The Ochopee Post Office on U.S. 41 (Staff photos). |
She's not alone though. People from all over travel to Ochopee, Fla., zip code 34141, in the Big Cypress National Preserve to send their mail from and take pictures at the tiny shack that's about as small as the stamps it sells.
Hop on U.S. 41 (Tamiami Trail), head west and enjoy the two-lane scenic tour of the Florida Everglades. Look to your right and count the alligators barely surfacing on the glassy waterways or look to your left and watch a pack of vultures stand on the sandy side of the road.
After about an hour and a half of nature's nicest street-side decorum, just when you think you've gone too far, look to the left.
The O'Connors of Massachusetts did and that's why they pulled off the road.
"We had to stop—It looks just like a post office we came across in Hawaii on our honeymoon 33 years ago," said Mrs. O'Connor. "I think the one there might have even been a wee bit bigger."
Visitors pose for a souvenir photo in front of the tiny Ochopee Post Office, zip code
34141.
She was all too excited to go inside the building which measures 8 feet by 7 feet. There's just enough room inside for Mrs. O'Connor who couldn't be more than four and half feet tall and the window clerk.
While she was inside John Muldoon pulled up with his dog. Muldoon, a local who lives in nearby Copeland simply came to mail something. The Ochopee branch is the nearest Post Office open on a Saturday morning. Otherwise, he has to drive 35 miles east to Naples.
"To me this is everyday life," said Muldoon. "I'm here all the time."
The two-foot wide doors slide open, Mrs. O'Connor runs out and Muldoon steps in, shutting the door behind him.
Mr. O'Connor stands to the side swatting swarms of horseflies, while Mrs. O'Connor hurries over to a picnic table to write out some post cards she's just purchased.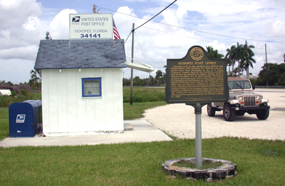 "Isn't this the coolest thing in the world?" she asked.
A few minutes later, she jumps up and heads back inside to send the postcards to her Mother, daughter-in-law, and her class.
"I teach second grade," said Mrs. O'Connor. "So they'll get the biggest kick out of this and I signed it 'love Mrs. O'Connor.'—They'll get a bigger kick out of that!"
Mrs. O'Connor came back out after a quick chat with the window clerk."She said a couple just came here to get their wedding invitations stamped and postmarked," Mrs. O'Connor said. "This woman is great!"
That woman is Rhonda Storey, the weekend window clerk.
Storey, a native of Everglades City only eight miles down the road, has worked at the Ochopee office for three years and says she wouldn't trade it for the world.
"Working here is very exciting, it's very unique, it's very different and it's wonderful because you meet people from everywhere," said Storey.
She says there's two things people want to know when they step inside the puny U.S. post office. First, they want to know where she uses the restroom, because there clearly isn't room for one inside.
Storey says she arrives at 8 in the morning to sort mail. She then drives three miles up the road to a place called Wooten's Airboat Tours, where she uses the restroom, before returning to open the doors to the public at 9:30. If there's an emergency, she'll just lock up the doors for 5 or 10 minutes to run up the road. But she insists that's only in the case of an emergency.
"Other than that you just learn that you just don't drink too much while you're on the job," said Storey. "It's not as bad as what it sounds."
| | |
| --- | --- |
| | A Collier County historical marker tells the story of the post office. |
Storey says the other most common question is "Can I buy stamps?" She says people drive by and think it's just an information booth.
After all, the Ochopee Post Office is just a little shed used to store irrigation and supplies for the tomato farm that sat behind it back in 1953.
Storey says visitors find it hard to believe that the branch has a 123.3-mile route which delivers mail to more than 500 families in the area.
Gerri, the branch's mailwoman delivers all of the mail and has done so for the past 27 years.
"She's just now got her husband to start delivering the mail for her one day a week so she can have a day off," said Storey. "But after 27 years I think she deserves that."
Aside from Gerri's route, the branch has 10 regular customers who come pick up their mail on a daily basis.
Other than that, the Ochopee Post Office draws in four to five tour buses a week, packed with people who want Storey to postmark their mail with a stamp baring a little drawing of the structure and a phrase reading "The Smallest Post Office Building in the U.S.A."
"I love my job," said Storey. "And I hope I'm here till it closes or till God takes me."