Big Cypress offers diverse wildlife
OCHOPEE, Fla. — I was lured to Big Cypress National Preserve with the promise of Florida panther, whitetail deer and black bears. Unfortunately, I saw none. I did however see my fill of alligators, mosquitoes and black vultures.
While the Big Cypress is home to thousands of species and many endangered ones, I was disappointed to discover that many of the species go into "hiding" during the rainy season (spring and summer). Also, because of the recent heavy rains, most of the trails were too muddy and visitors could only trek to the outskirts before having to turn back.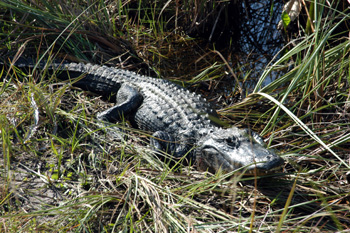 Alligators are frequently spotted in the Big Cypress (Staff photos).
One "trail" that I was able to hike was the Kirby Storter Boardwalk. Located 27 miles west of the Oasis Visitor Center, it is a half-mile boardwalk giving visitors who are not nature lovers a taste of the beauty of the preserve.
The Kirby Storter Boardwalk ends in a swamp, where I spotted a mother alligator with five of her young. Along the way, colorful orchids and Big Cypress trees can be spotted. The Big Cypress is home to several rare types including ghost and cigar orchids.
"Often, wildflower enthusiasts will spend days camping here and searching for some of the more elusive species, like the ghost orchid," said Big Cypress Park Ranger Ann Marcus, 55. "They consider finding and photographing one a priceless treasure."
Big Cypress also provides a unique habitat that allows a variety of temperate and tropical plants and animals to co-mingle. Nowhere else in the United States does this co-mingling occur.
On my mission to see a Florida panther, I was told by Ann, "There are so few of them, that it is highly unlikely to see one in the wild." She also said that there were approximately 40 panthers in the preserve, which is almost half of the Florida panthers known to be alive. Fifteen of those at Big Cypress are being tracked by radio collar.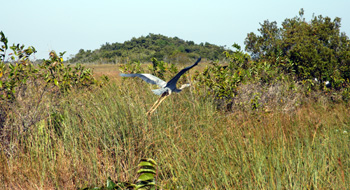 A wild bird takes flight.
Instead of looking for a panther, I should have brought my fishing gear, since March and April are superb fishing months.
Big Cypress averages 60 to 70 inches of rainfall per year, making it the highest rainfall in the United States.
"In March and April, the best thing to do at the preserve is to fish. Because of the rainfall, it is usually very easy to catch numerous fish during these months," said Ann's husband and Big Cypress Park Ranger, Jerry Marcus, 57.
However, boating can be a challenge since much of the water is shallow. Rangers advise people to stand along the roadside to fish.
"Right by the visitor center there are a few places to stand and fish," said Jerry. "They are far enough back from the road that cars won't hit you and you still catch a decent amount of fish."
Since Big Cypress is a preserve and not a national park, activities such as hunting, fishing, off-road vehicle use and oil drilling are allowed. In 1974, the National Park Service established it as the first national preserve with 729,000 acres.
If you go, the Big Cypress is open seven days a week from 8:30 a.m. to 4 p.m. and admission is free. However, you should stock up on loads of bug spray, since no matter when you go there is a plethora of mosquitoes.
Also, when planning trip, try to go during the winter or fall. The temperatures are slightly cooler and you have a greater chance of seeing an abundance of wildlife.
| | |
| --- | --- |
| | Wild birds feed in the wetlands. |
If You Go
Address: Big Cypress National Preserve, HRC61, Box 110, Ochopee, Fla. 33943
Phone: 941-695-4111
Hours: 8:30 a.m. to 4 p.m. year round, except Dec. 25, when Welcome Center closed
Admission: Free, unless camping- $4 camping fee, $35 permit for ORVs
Facilities: Visitor Centers, Restrooms, Campgrounds, Picnic Area, Marina
Distance from Miami: 52 miles
Distance from Naples: 56 miles
Directions: Big Cypress is west off of State Road 41