Lafitte Park offers French Quarter tours
NEW ORLEANS — If you plan to visit New Orleans' French Quarter for its famous leisure-time activities, you'll quickly figure out tourists have to pay to play.
Looking for a bathroom in the French Quarter? Buy a drink at a bar first, or else give 'em five bucks for the privilege of their privy. Need to use an ATM? Fine, but brace yourself for a $3 to $4 surcharge. Even snagging Mardi Gras beads requires that you "earn" them, and that's another story all together.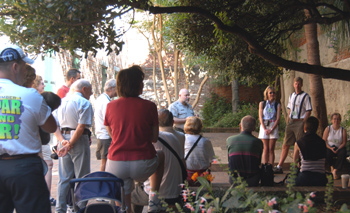 A park service guide begins a morning tour at the Jean Lafitte National Historical Park courtyard (Staff photos).
All of this is the reason why a stop at the Jean Lafitte National Historical Park and Preserve's French Quarter Visitor Center at 419 Decatur St. is so refreshing.
Not only does it offer clean bathrooms, the facility features exhibits, folklife and cooking demonstrations, talks by rangers, music performances and walking tours of the French Quarter — all free.
It's quite possibly the free walking tours the facility offers every day that draw most of the center's roughly 66,200 annual visitors. Walking tours have been offered since 1980; at one time, rangers were conducting as many as six tours a day to meet the demand.
"It's the most popular thing we do and we get a lot of requests for them," said Dave Herrera, deputy superintendent for the Jean Lafitte National Historical Park and Preserve. "People like the fact that they're going to going to learn the true, accurate history on our tours and on some other tours of the Quarter you don't always get that."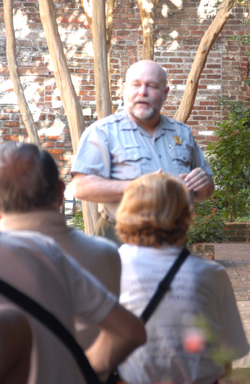 An NPS guide discusses the history of the area before beginning a morning French Quarter walking tour.
But if the tours are so popular with tourists, they're also drawing the ire of local tour operators, who contend that the NPS is unfair competition. It's the reason the visitor center offers only one tour a day, at a maximum of 25 people.
"We would offer more tours if we could," Herrera said. "We tried to offer a tour in the Garden District" — a neighborhood south of the Quarter known for its stately, antebellum mansions — "but the private tour groups complained."
"I've heard some people say that us offering free tours is like the government setting up a table in front of a grocery store and giving away free groceries to people using taxpayer's dollars," said Dan Brown, the park's chief of resource education.
"But I've also heard people who support our tours compare them to a commercial bookstore trying to close down a public library just because the library lets people check out free books."
When the NPS started its walking tours 24 years ago, only one other tour group was operating in the city and that one was also a free tour, Brown said.
Today, there are more than 200 registered tour outfits in the city, the majority being for-profit tour groups working in the Quarter who charge anywhere from $10 for a walking tour to $50 for a half-hour carriage ride.
And those for-profit tour groups don't appreciate a government entity cutting into their business, even if the government entity is the NPS's humble Decatur Street visitor center. Its location doesn't scream "free tours" — even the sign hanging above the carriageway entrance to the center doesn't attract a lot of attention from the pedestrians.
Most of them, Herrera said, are too distracted by the action, sights and sounds of the Quarter all around them.
| | |
| --- | --- |
| | Wrought-iron balconies contribute to the French Quarter's character. |
"People come to town with a specific mindset," Herrera said. "They want to hit the bars, the restaurants and the music clubs. They're not thinking of visiting a national park."
For all this, you'd think it would be easy for the visitor center and the for-profit tour groups to come up with an amenable compromise. Yet so far, efforts to find one sound like pages ripped right out of a government handbook on red tape.
A group of visitor center employees is now working to collect opinions and input from the general public, including the Quarter's residents and its property owners, since the tour route uses public sidewalks to view both public and private historical buildings.
Next, the group will schedule workshops this summer, conduct a "tour usage" survey this fall, compile the results and draft a plan. That plan will have a 30-day public review and comment period, from which Brown hopes to craft the center's revised tour policy.
Brown hopes to have that new policy in place by the end of 2004, but said that realistically it probably won't happen until Spring of 2005.
| | |
| --- | --- |
| | Historic houses are just around the corner from the Jean Lafitte National Historical Park Visitor Center in the French Quarter and a stop on the walking tour. |
While he hopes that the outcome of all this means the visitor center can increase the number of its walking tours, Brown isn't even sure that in the end they'll even be able to continue the one they do offer.
"There's a good likelihood that if the commercial tour sector pressed it they probably could get us to stop providing tours all together," he said. "My hope is that we can find that win-win solution in all of this, but that remains to be seen."
If You Go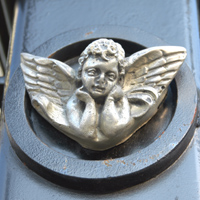 Tiny surprises such as this angel on an iron fence post are common in the French Quarter.
• The visitor center, located at 419 Decatur St., is open from 9 a.m. to 5 p.m. daily and is closed on Christmas Day and Mardi Gras. For special events and programs, call 504-589-3882 or visit http://www.nps.gov/jela.
• The visitor center's most popular feature is its hour-long, French Quarter Tour, which begins at 9:30 a.m. daily the visitor center and winds past historical spots in the Quarter. The walking tour is limited to the first 25 people. Passes are given on a first-come, first-served basis and must be picked up in person on the day of the tour.
• Exhibits at the visitor center depict the history, natural resources and cultural diversity of Louisiana's Delta region. There's also a small bookstore onsite.