Vehicles diminish air quality in Smokies
The Great Smoky Mountains National Park is one of the 59 national parks that is most significantly affected by air pollution.
Research conducted for more than 30 years shows that park resources such as streams, soils, vegetation, and visibility have degraded.
| | | |
| --- | --- | --- |
| | | At left, Ramsey Cascades, at 100 feet high, is the tallest waterfall in Great Smokey Mountains National Park. Below, early morning light produces a bluish hue on the mountains (Photos courtesy of Great Smoky Mountains National Park). |
"The visitor enjoyment and the public health are also in danger by the burning of fossil fuels for energy and transportation. Coal-fired power plants, motor vehicles, and industrial boilers produce emissions of sulfur dioxide, nitrogen oxides, carbon and mercury that at some point convert into secondary pollutants," Jim Renfro, a Great Smoky Mountains National Park air resource specialist, stated.
The park experiences some of the highest measured amounts of air pollution of any national park in the United States making it extremely dangerous for the hundreds of thousands of visitors.
| | | |
| --- | --- | --- |
| Click on the video at the right to view an audio slideshow about air quality issues in the Great Smoky Mountain National Park narrated and prepared by writer Axel Turcios. | | |
According to park statistics, more than nine million visitors enter the park each year making it in one of the most visited parks in the nation. More than three million of those visits are registered during the summer months.
In fact, almost all visitors come in single-family vehicles such as cars, trucks and RVs.
Today's on-road vehicles produce more than one-third of the carbon monoxide and nitrogen oxides in our atmosphere and more than 20 percent of the global warming pollution.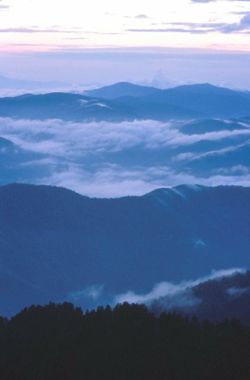 Cars and trucks produce air pollution throughout their life, including pollution emitted during vehicle operation, refueling, manufacturing, and disposal. As a matter of fact, transportation is the largest single source of air pollution in the U.S.
Another air quality issue is ozone pollution because it threatens human health and park plants. Its concentrations during the summer months exceed standards to protect public health and vegetation.
This should not be confused with the naturally occurring, beneficial ozone layer, which filters the sun's ultraviolet rays. Ground level ozone is a colorless gas created when nitrogen oxides mix with hydrocarbons in the presence of sunlight.
Power plants, automobiles and factories are the main producers of nitrogen oxides. Most ozone pollution originates outside the park and travels to the Smokies, located in East Tennessee and western North Carolina, on prevailing winds.
According to park's researches, more than 30 species of plant life show visible foliar damage from ozone pollution and can affect plant growth and species composition.
Ozone exposures in the park are among the highest in the East and in recent years have exceeded levels that threaten human health.
On average, ozone levels over the ridge tops of the park are up to two times higher than in nearby cities, including Knoxville and Atlanta.
In 1970, Congress passed the Clean Air Act, establishing national policy for preserving, protecting and enhancing air quality.
"Efforts via the Clean Air Act and amendments have established standards and reduced air pollutants," Renfro said. "The reductions during the past 30 years, especially in the Southeastern U.S. since the late 1990s have dramatically improved air quality."
As a matter of fact, some level of air pollution harming resources is affecting most national parks in the U.S.
| | | |
| --- | --- | --- |
| | | At left, the brilliant fall colors on mountains in North Carolina. Below, at 6,593 feet, Mount Le Conte is the third highest peak in the park (Photos courtesy of Great Smoky Mountains National Park). |
"Regional haze affects the Grand Canyon and the Shenandoah National Park. Acid rain also affects the Rocky Mountain National Park and mercury bioaccumulation affects the Acadia and Mammoth Cave national parks," Renfro said.
The park service is working with state regulatory agencies to develop a comprehensive plan to prevent future damage.
According to Smokies air resource specialist Renfro, in order to fix air pollution problems at the park, additional reductions of nitrogen oxides and sulfur dioxide are necessary.
"The primary tools the NPS and I use are monitoring, research, education and partnerships that provide information for policy-makers and regulatory agencies." Renfro said.
According to park's research, there are many things that can be done to cultivate a better air quality in the park.
For instance, saving energy at home and work place; use energy-efficient appliances and forms of transportation. It is also advisable to keep your motor vehicles in good operation condition because having clean vehicles and implementing fuel technologies can significantly reduce air pollution.
Last and most importantly, let government officials know that air quality is important to you.