Urban parks offer different experience
National monuments, iconic symbols, and rosy-red brick buildings may not be what come to mind when thinking about a national park.
But they are part of our collection of American national parks. And they are the most often found in our cities. An urban national park is often made up of iconic landmarks and green space surrounded by asphalt, cement and glass.
Urban parks serve quite a different purpose than your typical recreational outdoor environment that most people think about when considering America's national parks.
| | | |
| --- | --- | --- |
| Click on the video at right to see an audio slide show about urban national parks prepared and narrated by writer Gabriella Caballero. | |   |
Offering an abundance of opportunity for their cities, these special parks serve as places for the public to reconnect with America's heritage.
Since the National Park Service manages the nation's 392 parks, the vast majority of cultural oriented or historic sites all share the same value of preservation.
Walking through these valuable sites, one learns and sees the diversity of culture by the free-guided tours that are offered in many languages. Visitors of all ages, nationalities and ethnic groups gather around to view the development of America's beginning.
As Bill Line, a National Park Service spokesperson in Washington, said these sites represent our nation.
"The National Mall and Memorial Parks in the District of Columbia are America's front yard, they are the one location that represents America and who we are as Americans," he noted.
The six most important memorials are: Thomas Jefferson Memorial, Lincoln Memorial, Franklin Delano Roosevelt Memorial, World War II Memorial, Korean War Veterans Memorial, Vietnam Veterans Memorial, National Mall and Washington Monument. They are all of equal attraction to both international and national visitors.
| | | |
| --- | --- | --- |
| | | A moonlit view of the Statue of Liberty in New York City (Photos courtesy of National Park Service). |
This past year, the National Mall and Memorial Park was the most visited national park space in the country, attracting approximately 25 million visitors and surpassing the number of guests who visited Yellowstone, Yosemite, The Grand Canyon and Glacier parks combined.
An environmentally friendly oasis in the heart of a bustling city, Independence National Historical Park in downtown Philadelphia, is also an urban park. Families and tourists alike assemble in the commons square to sightsee while others choose the shade of the trees to read, picnic and encounter rangers and office workers taking leisurely walks through Independence Square.
According to Jane Cowley, a National Park Service spokesperson in Philadelphia, Independence National Historical Park is one out of the 12 national icons identified in the nation. Its biggest difference from national parks out west are the lack of clear defined realistic boundaries from a city street which enclose its four million visitors per year to Independence Hall, the Declaration of Independence Text, U.S. Constitution Text and Liberty Bell.
Independence National Historical Park has more free exhibits than the parks in the District of Columbia attracting a large number of school groups in the spring and families in the summer.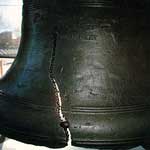 The Liberty Bell, located in Philadelphia, was used by abolitionists as a symbol in their efforts to put an end to slavery.
"Independence sells out daily because of space limitations and timed free tickets but this does not stop visitors from coming to the park…since fees at all national parks are free, the amount of visitors regardless of the city is sizeable," said Cowley.
Just as the Liberty Bell conveys a message of liberty, the Statue of Liberty is a worldwide iconic symbol of liberty and freedom.
Darren Boch, National Park Service spokesperson in New York, pointed out that "the statue would stand on its own no matter where you put it but because its location attracts many foreigners especially Europeans, so having the statue in New York makes the 46 million visitor figure appropriate."
The Statue of Liberty is one of the world's greatest monuments. It is a living symbol of freedom and democracy not just for Americans and French but also for all. Having the Statue in the United States is an honor because of its history and symbolic meaning to our country.
Urban parks are sites in which Americans especially can identify and relate to the past while staring in awe at their larger than life meaning. Because of their value and importance to the nation, they are also potential threat targets.
Park Authorities cannot disclose how these monuments are secured, particularly since the attacks of Sept. 11, 2001, and there exists a ban on the possession of all firearms the grounds of these sites.
Furthermore, airport style screening has been implemented to ensure that America's urban parks remain adequately protected.  Another problem that is looked at when dealing with the security is the location of the park.
Because of the localization of urban parks, it is hard to keep certain people in and out.
There is not really designated parking areas or lots for visitors.  Urban parks are set up so that one can walk through them as they are walking through the city. Since parking throughout the cities especially in the District of Columbia is restricted from certain times to facilitate cleaning and maintenance, it is recommended that visitors use public transportation offered either by the city or by the park system.
| | | |
| --- | --- | --- |
| | | The National Mall Memorial Parks in the District of Columbia. |
Because of the lack of parking for these sites, park officials need to be extra careful when screening visitors and guest. The need for so many security checkpoints and drastic changes the park system has implemented is not just for the safety of the landmark but of the guests as well.
These national sanctuaries all with a specific theme and a unique meaning are a reminder of who Americans are and what they have and continue to achieve.