Training keeps rescue teams ready
Dave Shade and Jesse Selwyn were climbing in Grand Teton National Park when Selwyn did not think he would be able to continue without injuring himself or worse death.
He activated his SPOT rescue locator and rangers were able to reach him by nightfall and evacuate him from the mountain with a short-haul technique.
National parks take many precautions to ensure that their visitors are safe. The top priority is always safety. Grand Teton, Grand Canyon, Rocky Mountain, and Olympic national parks are all located in the western region of the United States.
| | | |
| --- | --- | --- |
| Click on the video at the right to see an audio slideshow about search and rescue training at Grand Teton National Park narrated and prepared by writer Kimberly Sears. | | |
The mountainous terrain, unpredictable weather conditions and the level of trail difficulty are three characteristics that these parks share. With a dangerous environment the four parks must provide top search and rescue operations to protect their visitors.
Grand Teton National Park is located in Wyoming with 310,000 acres and 485 square miles of mountain terrain. Spokesperson Jenny Anzelmo-Sarles said the most common type of rescue that occurs in the park.
Anzelmo-Sarles explained that falling on a climbing route usually caused by visitors who are glissading is a typically rescue rangers perform.
| | | |
| --- | --- | --- |
| | | At left, a search team trains in winter weather conditions at Olympia National Park. Next below, an emergency rescue vehicle in service at Grand Canyon National Park (Photos courtesy of the National Park Service). |
"Glissading is when you are deceasing the mountain and there is a snowfield people will glissade down the mountain by sliding on their butt, like on a sled, or on their feet, like surfing on the snow, and people will do this with an ice axe to help control their speed," Anzelmo-Sarles explained. "If they are going to fast they will use their ice axe to catch them to keep them from falling. We have had four or five glissading rescues this summer alone from individuals who fell alone."
She discussed the two types of search and rescue operations in the park, minor and major, which depend solely on financial characteristics of the effort.
"Any rescue that costs over $500 is a major search and rescue and anything under $500 is a minor search and rescue. In 2011, we have had 33 major search and rescues," Anzelmo-Sarles said.
The most expensive search and rescues occur when rangers need to bring a helicopter, whether the weather permits it or if the helicopter is able to land.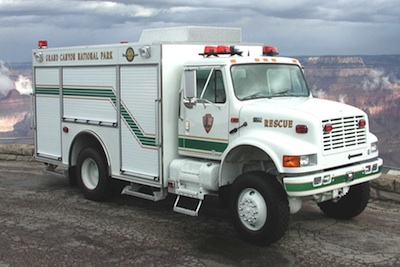 One technique that is used by a helicopter in search and rescue is called short-haul operations.
A short-haul operation utilizes a long line that hangs under the helicopter and allows a quicker rescue, especially if the helicopter cannot land.
A ranger will be clipped to the line and will be lowered to the injured person.
The ranger clips the injured person in a device and then attaches himself to it as well. They are then carried off to a safer surface or bought into the helicopter. This technique was pioneered in Grand Teton.
Anzelmo-Sarles explained the training that rangers go through to improve this short-haul technique.
"Our dedicated team of climbing rangers or 'Jenny Lakers' who do the mountain rescue operations do bi-monthly short-haul helicopter training during the summer season," she said.
From statistics this year, Anzelmo-Sarles said the total cost for search and rescues will be $200,000. She also said that there have been three fatalities in the park. Seven is largest number of fatalities they had in one year.
Many parks have different issues and different ways of handling search and rescue operations. In Grand Canyon National Park located in Arizona, one mile deep and 277 miles long. The canyon is divided into two parts the North Rim and South Rim.
The Grand Canyon is a beautiful spectacle, yet it is very dangerous if visitors are not prepared. Ken Phillips, chief of Emergency Services at Grand Canyon, discussed the most common and dangerous injury that occurs while visiting is dehydration.
It occurs during our busiest months, which are the hottest months in summer Phillips explained.
Phillips said that there is at least one dehydration rescue that occurs a day during the months May through September. In 2010 there were 148 heat-related injuries that happened in the park.
The park places preventative search and rescue rangers on the trials to help, but when an emergency happens they are managed in a high and low classification.
| | | |
| --- | --- | --- |
| | | At left, the steep and forbidding walls of Grand Canyon National Park create potentially dangerous locations for visitors and, at times, these places become difficult rescue sites for park rangers. Below, a deer in Rocky Mountain National Park. |
"There are helicopter evacuations when we know where someone is and are injured we will evacuated them by helicopter. We will also do air carry out to get them out of the canyon. Something low risk will be a hydrate assist, they are physically able to get out on their own but need rehydration," Phillips explained.
Search and rescue teams also use the short-haul technique. Statistics have shown that the Grand Canyon did 157 emergency medical helicopter transports in 2010, the highest out of all the parks in the country, Phillips said.
"Our peak visitation occurs during the hottest time of the year. When people hike down on the fairly cool South Rim which is at 7,000 feet and drops down 5,000 feet the temperature increases 20 degrees, it can be 115 degrees at the bottom," Phillips explained.
He said people do not realize the temperature difference when they are descending into the canyon. That is why he suggests that people go to the park's website or stop at the visitors center to look at hiking tips. In 2010, 175 search and rescues occur in the canyon.
However if someone needs a helicopter search and rescue it does not cost the patient anything. The helicopters that are used are twin engines, MD900 NOTAR, which cost $3,345 an hour, which is paid by taxpayers.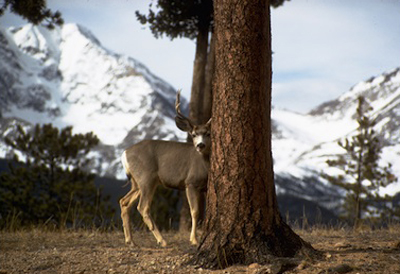 "We cannot charge them with a public aircraft. The FAA regulations are such that a public aircraft cannot charge for their services," Phillips said. "But if they are taken by park service ambulance to the clinic, the ambulance transport is under $1,000."
In 2010, there were 286 search and rescue operations that occurred in the park. To run search and rescue operations it costs the park $536,677. With such dangerous terrain the search and rescue operations are not taken lightly.
From extreme hot to extreme cold the Rocky Mountain National Park is located in Colorado where mountain elevations range from 8,000 feet to 14,259 feet.
With a huge difference in elevation, spokesperson Kyle Patterson said sophisticated techniques and specialized training procedures are used by rangers.
With more than 350 miles of trail in the park the search and rescue rangers are trained in many different areas and terrains. Patterson discussed the different areas that the rangers will be trained.
"Most of the rangers that respond to search and rescue incidents have a number of training sessions that they do each year. They do one on high angle evacuations for technical lower or raising, we do a lot of technical rescues because of the terrain," Patterson said. "Our rangers need to be skilled with high elevations and we do a variety of avalanche training."
There are different types of search and rescue rangers in the park. To distinguish between the different rangers they wear a certain color hat.
"Many of our rangers that are search and rescue wear multiple hats. The rangers dealing with search and rescue incidents are law enforcements rangers. Often times our EMTs and park medics wear different hats," Patterson explained. This year there have been 250 incidents that range from minor to major rescues. The most common search and rescue have to do with falling. Patterson explained a specific technique that is used to help a fallen individual.
When rangers' receive a search and rescue call they send a hasty team to the location, they do not have a lot of gear so they can get to the person quickly and will determine the injuries. A technical rescue will be performed if that person is on a steep trial.
"You put them into a litter, a sled almost and you rope them in so they are stationary as possible in this litter and you need to raise them or lower them out of that terrain," Patterson explained.
Six out of the seven fatalities the park has had in 2010 have been from falling. However, this year there have only been three fatalities, but none were from falls. Two of the fatalities were from heart attacks and one was a suicide.
But with diverse terrain Rocky Mountain park brings in millions of visitors of a year.
| | | |
| --- | --- | --- |
| A rescue team removes an injured park visitor on a litter in the difficult terrain of snow-covered Rocky Mountain National Park. | | |
Olympic National Park has similar terrain to Rocky Mountain. Olympic is located in an area of Western Washington that runs along the coast providing this park with a unique characteristic. Public Affairs Officer Barbara Maynes, discussed how the coastline affects search and rescue.
Between 10 to 15 years ago there were many fatalities in the park due to people hiking along the coastline and would get trapped by the high tide, which would lead to falls and drowning.
Not only does Olympic search and rescue include helicopters, but it involves the U.S. Coast Guard as well.
"With such a diverse environment in the park we have specific ocean coastline, deep forest, deep-sided mountains, cliffs and glaciers. But our rangers who work out on the coast use inflated boats for search and rescue operations. We also have a number of Coast Guard installations," Maynes said.
The search and rescue team uses the same basket technique as Rocky Mountain Park except they will also use the Coast Guard to assist with water rescues.
Search and rescue operations cost parks thousands of dollars in equipment and training each year. While the parks are very different they use the same techniques. These parks do not take safely lightly when it comes to protecting their visitors.