Park visitors must be wary of Lyme disease
Ticks are just the approximate size of a sesame seed but are capable of feeding upon large animals.
Their small size makes it very difficult for one to recognize the tick's presence, but early detection of these disease-spreading creatures could reduce the chance of transmission of Lyme disease.
| | | |
| --- | --- | --- |
| Click on the video at the right to view an audio slide show about tick and Lyme disease in national parks prepared by writer Danielle Cohen. | | |
Howard Ginsberg, a research ecologist and field station leader of the U.S. Government Patuxent Research Center at the University of Rhode Island, has published more than 20 articles on ticks and tick borne diseases.
"Lyme disease is the most commonly reported tick-borne disease in the United States. Cases reported each year ranged within 16,000-17,000 nationwide in the late 1990s though 2001, but climbed to 23,736 cases in 2002. Now the CDC (Centers for Disease Control) states that Lyme disease has nearly doubled what it was in the late 1990s and is now affecting approximately 30,000 people annually," said Ginsberg.
Ginsberg believes the number of patients with Lyme disease has increased due to the ticks spreading to areas where they were not located in the past.
Although Lyme disease is the most common, there are many other tick-borne diseases that are far less common, such as Powassan encephalitis, Rocky Mountain spotted fever, human granulocytic ehrlichiosis, human monocytic ehrlichiosis, borrelia lonestari, tularemia, Q-fever and others.
| | | |
| --- | --- | --- |
| At right, a boardwalk built on Fire Island National Seashore to prevent people from walking through tick-infested areas (Photos courtesy of National Park Service). Below, ticks found in national parks. | | |
Ticks can attach to any part of the body and often target areas like the groin, armpits, and scalp. Generally, within 36 to 48 hours of a tick carrying Lyme disease being attached to a human, the bacteria called Borrelia burgdorferi will transfer into the human's blood stream.
Russell Graham, the Northeast region consultant for the National Park Service, had much to say about the Lyme disease problem that has been growing drastically.
"Human cases are mostly concentrated in the Northeastern region, Mid-Atlantic, and Northern Central states, yet the most common place to contract Lyme disease is at the Fire Island Park in New York," said Graham..
Graham also explained his research about national parks with the most ticks.
"Disease does not occur nationwide and is concentrated heavily in 13 states. The states are: Connecticut, Delaware, Maine, Maryland, Massachusetts, Minnesota, New Hampshire, New Jersey, New York, Pennsylvania, Vermont, Virginia and Wisconsin," stated Graham.
It is clear that many different areas are prone to tick infestation and Lyme disease. Many of these areas include National Parks.
"Fire Island is by far the national park with the largest amounts of t

icks carrying Lyme disease. Following Fire Island, is Morristown National Park in New Jersey, Theodore Roosevelt national park in North Dakota, Greenbelt Park in Maryland, the Delaware Water Gap national recreation in New Jersey and Pennsylvania, Sleeping Bear Dunes National Lakeshore in Michigan, Paramount Ranch National Recreation Area in California and Gettysburg National Military park in Pennsylvania, " Graham also explained.
Although there are certain parks and states that are known to have cases of Lyme disease, there are sometimes rare cases in less-common states. Dean Shenk, the supervisory park ranger in the division of education and interpretation at Yosemite National Park in California spoke about his experience with ticks and Lyme disease on a phone interview.
"I have been a ranger at this park for 40 years, and about 30 years ago we became aware of the potential danger of Lyme disease. Yosemite actually is a home to the disease. I personally have seen bears and deer effected by the disease in the park. I work on-trail and have had ticks on me, but never contracted a disease. I know that the employees who work off-trail and in the bushes are warned about Lyme disease. They are required to read an informational brochure on the topic before employment," said Shenk.
The National Park Service Public Health Program informs park visitors that the most common time to contract Lyme disease is from May through August, which happens to be the warmest months when national parks attract the most visitors.
"Park visitors engage in outdoor activities that potentially place them at risk for exposure to these vectors and the pathogens they transmit," Ginsberg said.
Ticks thrive in grassy areas with low sunlight and high humidity. Woodlands and fields are perfect for ticks to live as well. Ticks also live in long grass adjacent to beaches. Ticks are not only found in rural settings, but in suburban areas in overgrown lawns, ground over plants and leaf litter.
The type of tick that spreads Lyme disease in the Northeast is called the deer tick. This tick usually feeds off of white-tailed deer, birds, and white-footed mice. The ticks responsible for Lyme disease along the Pacific Ocean and along the southeastern coast are called blacklegged ticks.
| | | |
| --- | --- | --- |
| At right, a deer tick, which transmits Lyme disease in the Northeastern region. Below, the dunes on Fire Island National Seashore, the National park with the highest Lyme disease infestation. | | |
Lyme disease can often go unnoticed for quite some time, but the sooner one catches it, the better chance of curing it.
The way to tell if one has a tick-borne disease is observing the small bump or redness at the site of a tick bite that goes away within one or two days of getting bit. Although this is not a definite sign of Lyme disease, it is usually an indication.
The main sign of Lyme disease is a red expanding rash called erythema migraines. This is accompanied by fatigue, chills, fever, headache, muscle and joint aches and swollen lymph nodes. Bell's facial palsy and arthritis could also be some of the less common symptoms.
The test most commonly used to test for Lyme disease is the Enzyme-linked Immunosorbent Assay usually followed up for confirmation with the Western Blot test.
The National Park Service Public Health Program tries to make park goers aware of ticks and Lyme disease and urge goers to check their bodies, and each other's bodies for any signs of ticks.
The leading pediatric tick-borne disease specialist is Dr. Charles Ray Jones located in New Haven, Conn.
"The way to detect a tick on your body is to look with a buddy or in a mirror in good lighting in all the hard-to-see places. Reminders to do a daily check should be posted by your shower. Showering helps remove unattached ticks from the body. It is also very important to remember that ticks can attach to clothing. Placing clothes in the dryer on high heat for an hour effectively kills ticks," said Jones on a telephone interview.
The advise the National Park Service gives to people who believe they were bitten by a tick is to contact the Centers for Disease Control and Prevention and visit the nearest doctor to remove the tick and test for any tick borne diseases.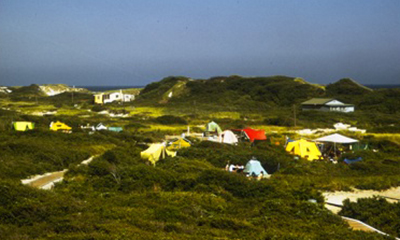 It is also advised that one removes the tick as soon as it is seen gently with a pair of fine point tweezers to avoid any damage to the tick's body. The tick should be saved and brought to the doctor for testing.
Many who contract Lyme disease or are bitten by a tick without the disease do not know where they contracted the bite. This is especially true in national parks.
"A lot of people who visit national parks are transient, they are on vacation, and they go home without even realizing they got bit buy a tick. Once they realize they contracted Lyme's disease they don't know where they contracted it," stated Ginsberg.
Marina Petsalis, a junior biomedical engineering major at the University of Miami contracted Lyme disease last year.
"It was awful, I was on a teen-travel trip going to a bunch of national parks in the Northeast region and without even realizing I was bitten by a tick and contracted Lyme disease. It made me feel so weak and tired. The worst part about it was I had no recollection of when exactly the tick bit me. I wish I would have known to check my body after leaving the parks," said Petsalis.
Ginsberg stated that the best method of tick prevention was on Fire Island in the 1980s when all their park rangers and employees wore body suits and placed them in a buddy system where they did body scans for ticks of one another every 15 minutes. There was an active safety committee making sure everyone was following the procedures. If one was to be bitten by a tick, they had an arrangement with the Lyme Disease Association at Stony Brook Hospital.
"By law, national parks have to preserve the national resources, so they are not allowed to disturb the natural environment. Disturbing the natural environment would be putting pesticides in the park that would not only kill off ticks, but many other species as well," Ginsberg stated.
Ginsberg did state ways in which national parks could prevent ticks without disturbing the natural environment.
"Novoyzmes is a company that uses F52 strain of fungus that works very well on ticks. This is not a strong pesticide but a fungus which is less harmful. Parks are allowed to use this, but it depends on the park correspondent," said Ginsberg.
Ginsberg also suggested to use repellent with DEET on skin, which is used to repel ticks and other insects for hours at a time.