Park rangers serve as NPS 'backbone'
Pebbles crunched and waves gently lapped the beach as Park Ranger Gary Bremen strolled down the narrow path, a bucket in hand and a straggly line of visitors behind him.
After about 10 feet, Bremen, who works at Biscayne National Park in Homestead, Fla., stops at a clearing in the trail. The crowd quickly encircles him.
Bremen opens the white bucket and pulls out a small nondescript rock. He briefly adjusts his Smokey Bear hat before launching into a discussion about the limestone in his hand that is also along the trail and all over South Florida.
The crowd listens, captivated.
| | | |
| --- | --- | --- |
| | | At left, Ranger Gary Bremen discusses the geology of Biscayne National Park during a ranger-guided tour (Photos by Alysha Khan). Below next, Bremen talks to visitors on the porch of the Fascell Visitor Center about the features of the park. Last, he describes park wildlife to a tour group. |
"Backbone" of the Park Service
The National Park Service (NPS) employs more than 20,000 individuals of which 3,861 are park rangers.
"Everyone that visits a NPS unit whether it is a battlefield, park, monument or seashore wants to see rangers," said Jessica Korhut, who is on the board of directors for the Association of National Park Rangers (ANPR). "Rangers on patrol, guiding wild flower hikes, snowshoe hikes or canoe trips."
Korhut views park rangers as the "backbone" of the NPS.
"Without us, there would be no park service," she said.
All rangers wear the same uniform – the Smokey Bear hat, a dark khaki button-down shirt with a NPS badge and olive green pants – but not all of them have the same job.
Some, like Bremen, are interpretive rangers. Their role is to "connect people to parks," according to USAJOBS, the official government website for federal job listings.
Others are protective or law enforcement (LE) rangers, who guard the various resources in a park and "develop a sense of stewardship for park resources" among visitors, according to USAJOBS.
"LE rangers protect the resource; protect the Smoky Mountains from ginseng poachers, protect Yellowstone's thermal features; protect the Dall sheep in Denali National Park," said Korhut, who is an LE ranger at Denali National Park and Preserve in Alaska.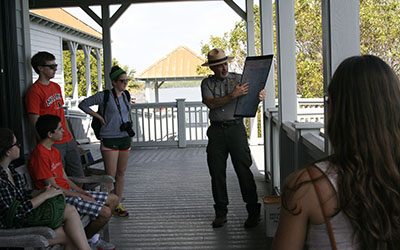 While these are the two most common roles, other positions include search and rescue, emergency medical services, and special event coordination. Rangers often alternate between these positions, but most are experts in specific roles and are more suited to specific parks.
"Not only are their different fields in the park service, there are different parks," said Maria Beotegui, who is a park ranger at Biscayne National Park. "You put me in the Rocky Mountains and I'm completely out of my element."
Beotegui has worked at Biscayne for 10 years and is currently an educational coordinator. She focuses on managing and developing educational programs for children and families.
"We are always looking for themes, universal concepts that people from all over the world will understand," Beotegui said.
Becoming a Ranger
Bremen finishes talking about the limestone and reaches into his bucket for a small bottle filled with a pale yellow liquid. He unscrews the cap and squeezes a small drop onto a rock near his foot. The limestone fizzles and bubbles, while the visitors push in closer to see the reaction. Bremen smiles.
Since he was 7 years old, Bremen wanted to become a park ranger. He was graduated from the University of Miami in 1975, and accepted a seasonal, part-time ranger position at Mammoth Cave National Park in Kentucky soon after.
"If you can handle 200 people in a cave, you can do anything," he said.
After working a few more part time positions, including one at Biscayne National Park, Bremen accepted a full-time position at Biscayne National Park in 1995 and has been there since.
Bremen's story is not unique. According to Alison Steiner, who is also on the board of directors for the ANPR, most rangers begin their careers one of three ways – as volunteers, as interns, or as part-time employees. During their busiest months, parks will often hire extra rangers for three to four months at a time.
"Once people have worked seasonally for a few years, they typically begin applying for permanent positions," said Steiner, who is also a ranger at Sequoia and Kings Canyon National Parks in California.
Steiner, herself, began working for the NPS her sophomore year of college as an interpretation intern at Rocky Mountain National Park in Colorado. The following winter, she served as an education intern at Arches National Park, Utah. After part-time positions at Grand Teton National Park, Wyo., Acadia National Park, Maine, and Everglades National Park in South Florida, Steiner accepted a full-time position at Sequoia and Kings Canyon National Parks.
"I wanted a job that was intellectually and physically challenging, and that would afford me lots of opportunities to get outside," she said.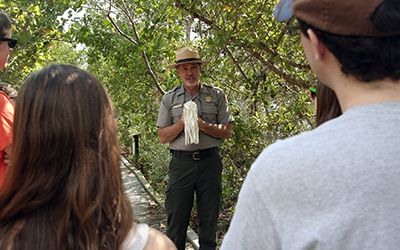 While there are no specific requirements to becoming a park ranger, most rangers have college degrees in related fields such as park and recreation management, biology, ecology, geology, criminal justice, and history; Steiner has a bachelor's degree in American Studies from Yale University and Bremen has a bachelor's degree in biology.
"There are many paths to becoming a park ranger," Steiner said.
According to Bremen, rangers looking to work in certain parks can improve their chances by acquiring specific abilities. At Biscayne, for example, rangers who are fluent in Spanish and have water safety training are more desirable.
"You can make yourself more marketable by gaining those skills," he said.
At the end of the day, however, the main draw for prospective park rangers is simple – an opportunity to preserve the land for future generations.
"Working for the NPS is a great way to live in some of the most spectacular parts of the country, while also doing meaningful work for the American public," Steiner said.