Melaleuca thrives, but creates problems
FLORIDA CITY, Fla. — Melaleuca quinquenervia, or better known simply as melaleuca trees, are one of South Florida's most invasive species next to the Burmese python.
The main problems with the melaleuca in the Everglades National Park is that it drains the wetlands, kills native Florida vegetation, and gives many people severe allergies.
Dennis Giardina, an Everglades regional biologist who works in the invasive plant management section at the Florida Fish and Wildlife Conservation Commission, explains that the melaleuca thrives because of its lack of competition from it's natural enemies.
| | | |
| --- | --- | --- |
| At right, melaleuca pollen can cause severe allergies (Photo by Anne Murray, University of Florida/IFAS Center for Aquatic and Invasive Plants). Below, pesticides sprayings  is a herbicidal option in the melaleuca management plan (Photo courtesy of National Park Service). | | |
"One of the reasons why melaleuca and other non-native species are able to dominate in a new ecosystem is because they are liberated from predators, parasites, and pathogens in their native habitat that reduce their reproductive capacity and vigor," said Giardina.
Before programs had been formed to control of the plant, 50,000 acres of wetlands that make up the Everglades were taken over by the tree per year. These trees grow at an extremely rapid rate and are ruthless towards the native environment.
François Brave Laroche,  an administrator for the Vegetative Management Section at the South Florida Water Management District, said the tree is simply relentless.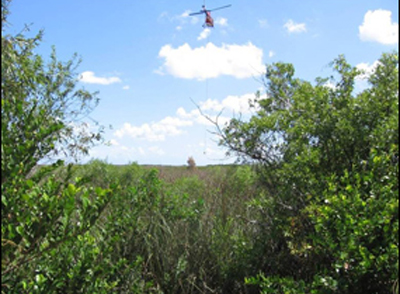 "Back in the 1990s, when we were struggling to get a handle on how to control melaleuca, my supervisor referred to it as 'the tree from hell'," said Laroche.
The Everglades National Park works alongside the South Florida Water Management District and Florida Fish and Wildlife Conservation Commission in efforts to keep the melaleuca infestation under control.
There are extensive plant management plans for this particular tree and it is on high priority on the invasive species list within the park.
Constant maintenance control is necessary for this invasive species since they grow at such a rapid rate.
Ellen Allen, who works as a scientist for the South Florida Water Management District, said that these groups "continue to manage melaleuca in the greater Everglades.  Many areas are under maintenance control and ecosystems are recovering to the previous state.  Eradication efforts continue on public land.  Routine maintenance is required to prevent re-infestation by melaleuca."
At first, the plans included burning and chopping down the trees but it was later found out that this in fact made the melaleucas grow even more intensely because doing so helps the tree spread it's seeds.
Nowadays, the park uses an integrated test management program, which includes mechanical, herbicidal, and biological forms of eradication.
Mechanical includes pulling out smaller seedlings of the trees. For herbicidal, pesticides are sprayed on the trees to kill them. On the biological end, plant-eating insects are used to provide natural predators towards the melaleuca.
On the biological end, Giardina explains that the usage of insects cannot alone eradicate the species however.
"Biological control organisms never eradicate a pest species but instead slow down its growth and reproduction so that it is not as dominant in its introduced ecosystem and native species can persist," said Giardina.
This is why the park uses an integrated management plan that consists of multiple ways of getting rid of the species.
| | | |
| --- | --- | --- |
| At right, chopping down melaleuca trees was a popular method of eradication until it was discovered that this was only spreading more seeds that in turn harvested more invasive plants (Photo courtesy of National Park Service). Below, the pink areas on the graph show the amount of melaleuca trees in the Everglades National Park today (Illustration courtesy of National Park Service). | | |
The tree is native to Australia and was brought over to South Florida in the early 1900s by John C. Gifford. He was a University of Miami forestry professor during the time.
The idea was that the people of South Florida wanted to drain out the Everglades so that it could become a new regional lumbar industry. Gifford had researched the melaleuca and he was successful in suggesting them to help drain the swamplands but the trees began to destroy the native vegetation.
In 1990, in an act to preserve the Everglades, regional public agencies began enacting melaleuca eradication programs. An estimate of $4 million of government money is spent on getting rid of the invasive species.
Tony Pernas works as a exotic plant management specialist for the National Park Service on the Florida and Caribbean Exotic Plant Management team and has extensive experience in melaleuca impacts and removal within the Everglades National Park.
"The melaleuca tree is under maintenance level and is not yet eradicated," said Pernas.
Laroche explained that the trees numbers have gone way down, however.
"The melaleuca population has declined and is under maintenance control in large portions of lands under public ownership, like the Everglades park," said Laroche.
As of now, the melaleuca situation is under control but not yet gone for good.
If You Go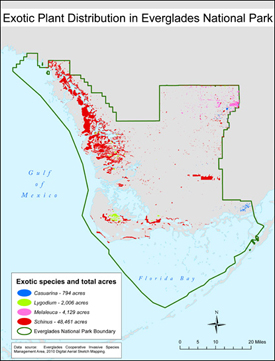 Ernest Coe Visitor Center
40001 State Road 9336, Homestead, Fla. 33034
Hours of operation: 9 a.m. – 5 p.m. Hours subject to change.
Phone: 305-242-7700
Flamingo Visitor Center
The Flamingo Visitor Center lies roughly 38 miles south of the park main entrance.
Hours of operation: 8 a.m. – 4:30 p.m. Lobby is open 24 hours for backcountry site self-registration during the summer season. Hours are subject to change.
Phone: 239-696-2945
Shark Valley Visitor Center
36000 SW 8th St., Miami, Fla. 33194
Hours of operation: 9:15 a.m. – 5:15 p.m.  Hours are subject to change.
Phone: 305-221-8776
Gulf Coast Visitor Center
815 Oyster Bar Lane, Everglades City, Fla. 34139
Hours of operation: 9 a.m. – 4:30 p.m. mid April to mid November, 8 a.m. – 4:30 p.m. mid November to mid April. Hours subject to change.
Phone: 239-695-3311
Park Entry Fees
Private Vehicle: $10 (Good for seven days at all park entrances)
Pedestrian/Cyclist: $5 (Good for seven days at all park entrances. Individuals 16 and younger are free)
Commercial Tours
Entrance fees are charged based on seating capacity by vehicle: 26 or more passengers: $200, 16-25 passengers: $100, 7-15 passengers: $75, 1-6 passengers: $25
Camping Fees
Backcountry:  A permit is required for remote areas of the park. April to Nov. 16: Permits are free of charge. Nov. 16 to April: $10 per permit plus $2 per person per night. Maximum 14 nights. Permits must be obtained at either Gulf Coast or Flamingo visitor centers no more than 24 hours in advance.
Frontcountry: 108 drive-up sites are available on first come first serve basis. Sites are $16 ($8 for senior/access pass holders) per night.