Denali works to increase wolves sightings
Those who travel to Denali National Park and Preserve with the hope of catching glimpse of wolves may end up disappointed.
The park, which boasts the highest opportunity to see wolves "more than anywhere else in Alaska," according to wildlife biologist Bridget Borg, is experiencing a decline in the sightings of wolves.
"Wolf sightings have definitely decreased," stated Denali National Park and Preserve wildlife technician Matt King, "In fact, they've dropped fairly dramatically."
| | | |
| --- | --- | --- |
| | | At left, Denali National Park and Preserve, located in interior Alaska, boasts colors during the fall. Below, the alpha wolf from the East Fork Pack walks along the road (Photos courtesy of Bud Marschner). |
King recalls that in 2010, there was a 44 percent chance of seeing wolves. As of 2013, that number has dropped to 4 percent, which accounts for just three sightings out of 80 bus trip viewing opportunities.
Denali National Park and Preserve hosts approximately 400,000 visitors per year, 200,000 of which take the wildlife viewing bus trips.
"Wildlife sightings are vital to our park's tourism and wolves serve as one of our main reasons people flock to the park," said King.
While many wildlife sightings seem to fluctuate year after year, like that of caribou, moose and Dall's sheep, only the wolf has shown steady decline.
Wolves have been monitored throughout the park since 1939, but population estimates were not accurate until 1986, with the integration of radio-tracking technology. Today, GPS/ARGOS collars upload daily locations of tracked wolves.
From that, the park is able to estimate the abundance and density of the wolves. This year, the estimate is 8.2 wolves per 1,000 square miles. Last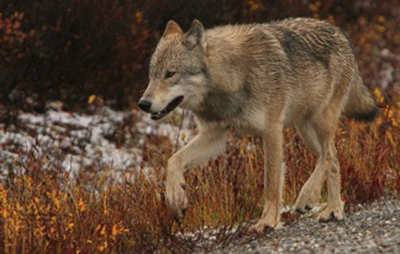 year, there was a density of 9.9 wolves per 1,000 square miles, so the numbers have definitely decreased.
Denali National Park and Preserve, in conjunction with the University of Alaska at Fairbanks, is currently studying the factors that influence sightings in the park.
These include wolf abundance, the harvest, or purposeful killing, of wolves outside the park's boundaries, pack size, pack composition and den location.
"Out of the nine mortalities of collared wolves that occurred in 2012, two were from harvesting," said Borg.
Harvesting is becoming more of an issue in recent years, thanks to the decision by the Alaska Board of Game to allow for the hunting and trapping of wolves in the areas surrounding the park. Even in the park though, hunting and trapping for sport is legal.
"Despite the legality of harvesting, the documented wolf harvest is quite small," said Dr. Philip Hooge, assistant superintendent for Resources, Science and Learning at Denali National Park.
The Wolf Pack Narratives, which covers from May 1, 2012 to April 30, 2013, reports that in the Nenana River pack, four of the wolves were legally shot.
Many of the packs reported in the Wolf Pack Narratives have declined from 2012 to 2013. The Grant Creek pack, which boasts a population of just two wolves, formerly had 15 in spring of 2012. The McKinley Slough pack also declined from 15 wolves to just five.
| | | |
| --- | --- | --- |
| At right, two wolf pups play near the Tolkat River in Denali (Photo courtesy of Bud Marschner). Below, A Denali ranger applies a radio collar to a wolf while writing down data. Data are gathered twice a month (Photo courtesy of the National Park Service). | | |
Besides legal harvesting, causes of death for monitored wolves include natural causes, death from injuries and diseases such as oral melanoma, uremic poisoning, and follicular dysplasia.
The spring count of wolves inside the park, which is estimated to be 55 wolves, is "the lowest level document since counts began in 1986," according to National Park Service representative Kris Fister. It is also an 11 wolf decrease from 2012.
"Often, species will go through seven to eleven year cycles of fluctuation," comments King. "For example, the snowshoe hare population crashed in 2010, despite its peak years of 2008 to 2009."
Population size and viewership may be linked, but wildlife viewers should not be discouraged from traveling to Denali National Park and Preserve.
"Wolf sightings have increased this year," said King.
While no one can anticipate what the wolf population will be in the future, nothing can compare to seeing one of nature's most intriguing creatures out in the wild and Denali National Park and Preserve offers just that opportunity.
If You Go
The best way to explore Denali National Park and Preserve is by bus. Private vehicles are not allowed past Mile 15. There are different types of buses available for your trip to Denali:
Shuttle Buses— "Easy on, easy off" buses are not narrated but do stop to admire wildlife and the scenery.
Prices range from $27 to $51.50.Tour Buses— Narrated tours by the driver. Tours include full lunches or snacks. Prices range from $69.50 to $165 depending on the tour.
Courtesy Buses— free transportation between facilities and campgrounds.