Parks seek ways to manage crowds, cars
Tired of hearing about the economy and its negative effect on just about everything?
The economy might be hurting, but the national parks are booming by comparison if you look at attendance.
The national park system is on its way to breaking the attendance record for a calendar year. There have already been 232 million visitors so far this year, which is up 5 percent for the first nine months.
With all the visitors that the parks are receiving, there have been issues of overcrowding and how it harms the environment inside the parks. While overcrowding in some parks has been a problem for some time now, it is intensifying in some parks this year.
| | | |
| --- | --- | --- |
| | | Left, visitors disembark from buses during a tour of Yosemite Valley in Yosemite National Park. Next, park visitors in the village at Yosemite (Photos by Bruce Garrison). Last, a crowd gathers to watch Yellowstone's Old Faithful (Photo courtesy of J. Schmidt and the National Park Service). |
This issue is most prevalent in Yosemite, Yellowstone and Grand Canyon national parks. These three internationally known national parks have acknowledged their problems and are taking actions to lower the amount of people while saving its environment.
"We've added several measures. We have consolidated all the parking to a main lot. We've added a bus system that shuttles to the visitor center," said Scott Gediman, a park ranger and public affairs officer at Yosemite National Park.
Yosemite National Park is a popular destination that receives around three million visitors each year. Many of these visitors drive around the roads and stop to take photographs. This causes a great amount of congestion on those roads and, therefore, the park had to take action on this problem.
The park improved the road system by reducing the number of roads for cars and increasing the amount of shuttle buses. This bus system increased the visitors' enjoyment, clearing up the congestion of cars and creating easier travel within the park.
Yosemite National Park has also begun use of wilderness permits, which is a quota system that limits the number of people taking a trail on a given day. This permit decreases the chances of the environment being hurt and also the overcrowding by people.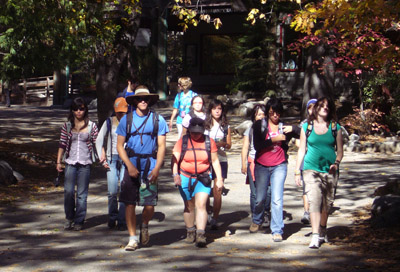 Every year, there are about five million people that visit the Grand Canyon because of its beautiful scenery. These large amounts of visitors are having an effect on the Grand Canyon.
Overcrowding, traffic jams and an outdated transportation system are all issues that the park is trying to address. Like Yosemite, Grand Canyon National Park has implemented projects to reduce the crowd and the harm they have done to the environment.
"There are several planning processes that have either been completed or are in progress, including the park's 1995 General Management Plan and a recently completed South Rim Visitor Transportation Plan. There's also plans for commercial overflights, river and backcountry use, etcetera," said Maureen Oltrogge, a public affairs officer.
The 1995 General Management Plan provides a foundation that protects the park while making it a meaningful experience for its visitors.
Another implemented plan, the South Rim Visitor Plan, provides a transportation system that addresses issues like long waits, parking lots with a surplus of cars and buses, traffic congestion and poor signage. This implemented plan accommodates the visitors by enhancing their experiences and the environment by protecting the parks resources.
Yellowstone National Park, like Yosemite and Grand Canyon, has an overcrowding problem. There have been proposed ideas that restrict cars from entering the park. Another proposed idea is installing all around the park a traffic-jam monitoring system.
However, the problem is not just with the overcrowding of vehicles. There are two million acres of wilderness that less than five percent of its visitors ever see. The crowds can be reduced by simply spreading people out within the park.
The problem of overcrowding in Yellowstone comes down to the facilities and their designs within the parks. Parks have to constantly update their trails and renovate their facilities to prevent overcrowding.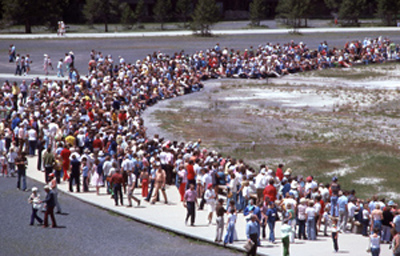 "Facilities are sized for use; parking areas, trails, overlooks, etcetera, have capacities for the size and location. These are based on reasonable crowd size. Planning and design options are considered to reduce impacts by spreading out the number, time or type of use in any area. However, part of the Mission is to provide for park use. So it is important that use is considered and valued," said Eleanor Clark, chief of Comprehensive Planning and Design at Yellowstone National Park.
Overcrowding in parks has not yet made it to the critical stage, but if this increasing trend of visiting parks continues, then it will soon be critical. Yellowstone, Yosemite, Grand Canyon and other national parks with the issue of overcrowding follow an old Chinese proverb: "Discover a beautiful place, announce it to the world, the world arrives, and it is beautiful no more."
However, park facilities and management have been implementing new projects and ideas to maintain the parks image.
"We're here to protect the park and provide a good experience for the park and its visitors," said Gediman.