Old South Meeting House reflects history
BOSTON— This is a city that's chock full of American history.
It's a city where history mixes with modern age, as many historic buildings along the Freedom Trail stand proudly in the midst of modern day buildings.
One of the most famous historic buildings open to the public is the Old South Meeting House built in 1729. This beautiful two story brick building that was once used as a Puritan Church in the 1700s, with its soaring white steeple is mostly famous for being the site of the Boston Tea Party in 1776.
The Old South Meeting House still functions as a meeting place for various public events. Though much smaller than the modern day buildings that stand nearby it was one the largest buildings of colonial times.
| | |
| --- | --- |
| | The Tel Aviv Trio, part of the New England Conservatory, puts on concerts at the Old South Meeting House  (Photo by Chaya Minkowitz). |
The Old South Meeting House is located on Boston's historic Freedom Trail. The Freedom Trail is great for anyone who may be geographically challenged since the Freedom Trail is marked by a brick or red line on the side walk or street. So even if you're a Boston first timer, there's little chance you'll get lost.
As you step off the Freedom Trail you walk right through open doors into the main hall of the Old South Meeting House. The main hall stands untouched since the 1700s. An old staircase leading to the second level seating gallery, which was reserved for slaves and the poor during colonial times, is cordoned off to visitors.
Dusty, wooden display cases hold evidence of events and speeches that took place during the American Revolution, so be sure to take a look at these pieces of history.
After paying a small admission fee, visitors take self guided tours of what was once an old, elegant Puritan church. The white walls and tall compass style windows are completely unadorned. There are no drapes, stained glass windows or paintings in the Old South Meeting House because Puritans believed a church was made up of its members, not the building itself.
Despite the lack of décor, there's a quiet elegance about the Old South Meeting House. The floor is lined with white, wooden pews facing a beautiful, intricately carved pulpit. The wood floors creaking beneath your feet as you walk really make you feel like you're walking on wood that's a few hundred years old.
Through artifacts, life-like figures, and interactive exhibits that lie around the perimeter of the room, visitors can trace the use of the Old South Meeting House for religious, political and social debate over three centuries. Displays and timelines explain each piece but there are some things you may miss since tours are self- guided. But don't worry, if you have questions there is someone available to answer your questions.
One such piece on display is a tea set that was melted together after a fire that nearly destroyed the Old South Meeting House swept through Boston in the late 1700s. But what the fire didn't destroy, the British soldiers did. Before the Revolution, when Boston was under siege in the 1700s, British soldiers vandalized the Old South Meeting House using the church pews and the pulpit for firewood.
| | |
| --- | --- |
| Boston colonial patriot Samuel Adams is poised along the Freedom Trail, on the walk between the Old South Meeting House and Fanueil Hall (Photo by Chaya Minkowitz). | |
Soon after, President George Washington surveyed the damage from the second floor gallery that's now closed to visitors. Today, a plaque graces the spot above which Washington stood and spoke the words inscribed on the plaque. So be sure to look for the plaque to read the president's reaction to the desecration of the church.
Another interesting exhibit is a model of Boston as it was during the 1700s. With the touch of a button, houses of important people to American history such as Benjamin Franklin and Abigail Adams, light up. Franklin, whose 300th birthday was this January, was baptized at the Old South Meeting House when he was only a day old.
This exhibit helps take people back in time so they themselves feel, like George Washington or Benjamin Franklin viewing Boston as it was years ago. It is a visual lesson in history that is often used with students and people of all ages touring the Old South Meeting House.
"To be in a space where such history occurred you can't help but be amazed," said Jim Polczynsky of Rhode Island.
Polczynsky visited the Old South Meeting House with his 11-year-old daughter Averii, who seemed to be thoroughly enjoying her visit.
"This place is amazing!" and I'm in love with history," she said.
Visitors who don't want to walk around the building or who want a more lively experience can listen to a 20-minute audio tour that puts you in the middle of Boston Tea Party meetings and the British occupation during the Revolution along with many other exciting things that happened at the Old South Meeting House.
If you take the audio tour, make sure you start it at exactly 20 minutes past the hour since it starts at the same time for everyone and runs straight through. Also, make sure to sit in the middle section of the pews while taking the audio tour since the middle section has the best reception.
The Old South Meeting House hosts a number of free events that are open to the public throughout the year. Classical concerts by the New England Conservatory are just one of the many events held there. So when you are making plans to visit Boston check to see what event is being held there during your trip.
If your travel plans bring you to Boston in December you can catch a full reenactment of the Boston Tea Party at the Old South Meeting House, complete with professional actors. The re-enactment commemorates the Boston Tea party of Dec. 16, 1773.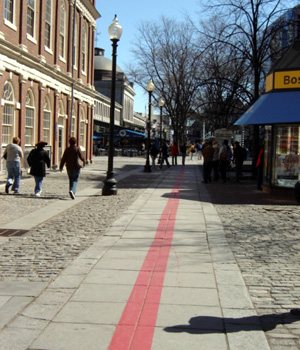 If you're headed to Boston during the summer there are guided tours available of the Old South Meeting House. But more importantly you can attend and be part of one of the Meeting House's most popular events. On The Fourth of July, the Tax on Tea Debates are reenacted. Visitors can take on the role of a loyalist or a patriot in these debates.
After you've finished touring, head on downstairs to the gift shop where you can buy Old South Meeting House memorabilia.
Visitors aren't the only ones impressed by the Old South Meeting House or the Freedom Trail. Locals keep coming back for more, too.
Diane Guffey, a Boston native now living in Florida, has been to the Old South Meeting House six times and she says it never gets old.
"I've always liked American history but I didn't appreciate it as a kid. Now I bring people with me whenever I come here."
Guffey has a word of advice for Boston visitors.
"When you come to Boston, you have to eat fried clams and do the Freedom Trail."
If You Go
Basics The Old South Meeting House is located at 310 Washington St. (just minutes from Boston's popular theater district, Faneuil Hall and Quincy Market).
Hours: Summer (April 1 – Oct. 31) 9:30 a.m. – 5 p.m. daily; Winter (Nov. 1 – March 31) 10 a.m. – 4 p.m. daily. Closed Thanksgiving, Christmas Eve Day, Christmas, and New Year's Day.
Admission: Adults $5, students and seniors $4, children (6-18) $1, children under 6 free, discounted admission rates are available for school and adult groups with reservations.
Contact: Call 617-482-6439 to reserve. For more information, go to http://www.oldsouthmeetinghouse.org.
Helpful tips: Old South Meeting House is wheelchair accessible. Tours should take about 20 minutes. Photography is permitted.