Faneuil Hall, Quincy Market offer fun
BOSTON — A short walk up the Freedom Trail will take you from The Old South Meeting House to the Faneuil Hall and Quincy Market area.
This stop on the trail is sure to be a shopper's delight. Faneuil Hall built in the 18th century is divided into an open market place and town meeting hall. On the ground floor shoppers can buy a plethora of Boston memorabilia, including anything on the Boston Red Sox. Visitors can also buy a variety of foods and traditional New England treats like salt water taffy.
| | |
| --- | --- |
| | The entrance of one of the main buildings at Quincy Market in downtown Boston (Photo by Chaya Minkowitz). |
Outside Faneuil Hall is Quincy Market. An indoor and outdoor shopping center and market, Quincy Market has something to offer everyone with 17 restaurants and pubs, including a replica of the original Boston bar Cheers (located near Boston Common).
One very creative sandwich café is Sluggers Sandwich and Ice Cream shop. This café, located across from the pushcarts, would be a decorating dream for a die hard Red Sox fan. The tables look like baseballs, there's red interior and the light bulbs are smiley faced baseballs.
There's no shortage of food or things to buy at Quincy, with 40 food stalls that offer everything from seafood to Indian food and 80 shops and pushcarts offering all types of trinkets and accessories.
| | |
| --- | --- |
| | The exterior of Quincy Market is designed as a pedestrian space with entertainment and access to shops (Photo by Chaya Minkowitz). |
What makes Quincy Market interesting is its interior round rotunda where crowds of people gather to eat, talk and meet.
Junji Kawashima, who lives in nearby Cambridge, Mass., brought his friend from Japan to Quincy Market as one of his first stops on the Freedom Trail.
"The Japanese love seafood, especially lobster and we don't have something like this in Japan," said Kawashima, especially not a place to eat that's in such an old building."
| | |
| --- | --- |
| Quincy Market (Photo by Chaya Minkowitz). | |
The ceiling of the rotunda, a beautiful piece of artwork, states Quincy as being the central market place of Bostonians since the 1800s. So be sure to look out for this unique piece of Quincy Market.
Visitors find the rotunda's interior very intriguing.
"I like the exposed bricks they used for the interior," said visitor Kim Barton from Louisiana. "They've reused and revitalized and old building which is pretty cool."
Quincy Market also puts on free shows for the crowds outside. But watch your step since the Quincy Market / Faneuil Hall outside area is all cobblestones.
"We've had trouble walking in tennis shoes," said Barton. "God help all the girls out there scouring the pubs looking for men. It's hard to be alluring when you're trying not to break your neck."
| | |
| --- | --- |
| | A sports souvenir shop in Quincy Market (Photo by Chaya Minkowitz). |
| | |
| --- | --- |
| | The Rotunda eating area of the Quincy Market building (Photo by Chaya Minkowitz). |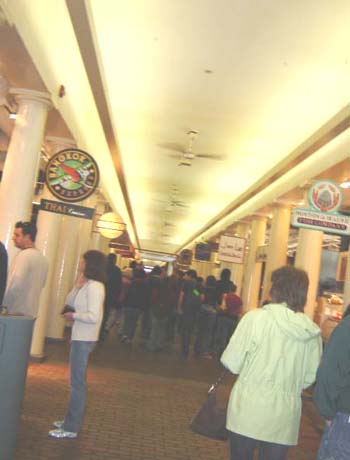 If You Go:
Faneuil Hall
Hours: Mondays through Saturdays, 10 a.m. – 9 p.m.; Sundays 12 p.m. – 6 p.m.
Information: Contact: 617-242-5642, http://www.faneuilhall.com
Basics: Faneuil Hall is located in the heart of historic downtown Boston on the Freedom Trail, conveniently located within one block of three T-Stops.
Admission is free, handicap accessible.
Quincy Market
Hours: Mondays through Saturdays, 10 a.m. – 9 p.m., Sundays from noon to 6 p.m., Sunday Dec.11 and 18: 11 a.m. – 6 p.m. Christmas Eve 10 a.m. – 5 p.m., Christmas Day closed, Day after Christmas 12 p.m. – 6 p.m., New Year's Eve 10 a.m. – 6 p.m. (Colonnade closes at midnight), New Year's Day 12 p.m. – 6 p.m. Day after New Year's Day 12 p.m. – 6 p.m.
Admission: Free
Parking: Parking is available at the 75 State garage for $10. Discounts available.
Helpful hints: Bring good walking shoes. It's all cobblestones and bricks outside. Hats and water are a good idea during the summer months.