Planetarium offers view of District's stars
WASHINGTON, D.C.— The last time you visited a planetarium was most likely your first time visiting a planetarium.
You probably enjoyed it either because like many grade school students on field-trips to the local museum, you were attracted to shiny lights, or because it was the perfect ambiance for a nap.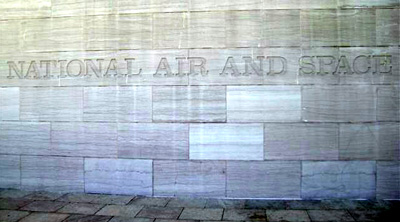 If you do not have children of your own, then you probably do not plan on making a trip to your nearest planetarium anytime soon.
But maybe you should rethink that.
Sean O'Brien, 38, is the Theater Operations supervisor and Einstein Planetarium staff astronomer at the Albert Einstein Planetarium, located inside the National Air and Space Museum on the National Mall.
He also works with the Lockheed Martin IMAX Theater. O'Brien has worked with the National Air and Space Museum for 13 years.
O'Brien said that his job entails supervising all staff members, including the hosting staff, which does the cashiering and ushering, opening and closing the museum, scheduling, live shows, astronomy outreach and special programs. In addition, he organizes groups of volunteers, handles magazine requests and interviews and appears on American University's radio station.
Each month, O'Brien and other local astronomers meet interested visitors from 5 to 11 p.m. at Sky Meadows State Park, near Paris, Va., for a "Saturday Star Party." They use high-power telescopes to show and teach about the stars and nearby planets up close.
O'Brien studied physics and astronomy at the University of Toledo. He has been involved with the Albert Einstein Planetarium since it opened its doors in July of 1976. He said that he even met his wife at the planetarium. She works there as well.
The planetarium is operated by a fairly small staff of six full-time employees and a few part-time staff members.
"What makes this planetarium different from any other planetarium is location. Where it is and what it is meant to be makes it unique. The almost overwhelming importance of being in the nation's capital almost overshadows the fact that there is a world-class planetarium," O'Brien said.
| | |
| --- | --- |
| | The large projector is the centerpiece of the Einstein Planetarium Auditorium (Photo by Diana Gdula). |
Almost 200,000 visitors stream through the planetarium each year. The museum's popularity comes with the tourist season making February less popular and July and March most popular.
"Fall has recently become a time for school groups to visit, so it is not just a spring rush anymore. Holidays spurts are common too," O'Brien said.
Visitors range from babies to 100-year-old grandparents and from domestic travelers to people from virtually every nation. O'Brien said that the planetarium awakens a sense of wonder.
The planetarium targets a general audience, but programs can be tailored for certain age groups, such as a group of 150 kindergartners, O'Brien said. In the future he plans on instituting more educational programs.
"It is my job to be accurate, not to teach a chapter in a text book because some people are on page one and others know more than I do," O'Brien said.
Currently, the planetarium offers three shows. The most popular show at the moment is "Cosmic Collisions," in which narrator Robert Redford talks about collisions in the universe.
It is the newest of the shows and opened in March 2006. "The Stars Tonight" displays the current night sky and teaches astronomy education. "Infinity Express" was the first show at the planetarium and recently reappeared to peak viewer's interest in various topics about the solar system, stars and galaxies.
| | |
| --- | --- |
| The projector and its massive screen wait for the next program (Photo by Diana Gdula). | |
Shows run every half-hour. The planetarium seats 233. It has epicentric seating, so that everyone is facing the general front. Its interior is a 70-foot diameter dome, one of the larger planetariums in the United States.
The dome of the planetarium is not readily visible because the National Air and Space Museum was not originally designed to hold a planetarium, O'Brien said. It was not until the West German's gift of a projector that changed that.
The planetarium features a Zeiss Model VIa to project its star field and upgraded to include an innovative Sky Vision dual digital projection system with six-channel digital surround sound.
Its last major renovation was in 2002, when it went digital. Planning in advance, O'Brien said that he would like to upgrade the digital projectors and computer software and hardware to run them. He would also like a digital projection of the star field live.
Besides the planetarium, there are two astronomy originated galleries in the National Air and Space Museum. "Exploring the Planets" and "Exploring the Universe," one on each side of the museum.
"A mural was painted 10 years ago to remind people about what the planetarium night sky is," O'Brien said.
| | |
| --- | --- |
| | Visitors at the Einstein Planetarium entrance in the National Air and Space Museum (Photo by Diana Gdula). |
Space changes slowly, but surely. After all, whoever would have thought that Pluto would lose its status as a planet? For all of those people who went to grade school before anytime in the past few years, then maybe it is time to visit the Albert Einstein Planetarium.
"Another fun thing to do is to walk along Jefferson Drive and journey through the planets, which are scaled from actual size. Basically, you walk the solar system in a few minutes," O'Brien added.
If You Go
Location: National Air and Space Museum on the National Mall.
Address: 6th Street & Independence Avenue, SW, Washington, D.C. 20560.
Telephone: 202-633-1000.
Hours: Open every day from 10 a.m. to 5:30 p.m., except Dec. 25.
Museum admission: free. IMAX admission: Youth (2-12) $7, single admission $8.50, seniors (60+) $7.50, Smithsonian member discount and combo tickets available. "The Stars Tonight" is free.
Showtimes: "Cosmic Collisions" between 10:30 a.m. and 5 p.m. everyday. "The Stars Tonight" must see on Tuesday, Thursday, or Saturday, 11:30 a.m. "Infinity Express" 11 a.m. and 2:30 p.m. daily.

Schedule: Call 877-932-IMAX (4629).

Ticket purchase: Call 202-633-4629 or buy online at http://www.si.edu/imax/.
Services and accessibility: Wheelchair spaces, captions, French, German, Japanese, Spanish and audio description available. For more information on services and accessibility, call 202-357-1400.
Parking: None at the museum. Public lots are located nearby and parking fees vary.
For questions about Sky Meadows State Park: Call 540-592-3556.