Kenilworth Gardens offer escape from city
WASHINGTON, D.C.—The nation's capitol promises pristine malls, an abundance of museums and even a chance to see the presidential dog getting thrown a toy by the president himself.
For those people that think they have seen every tourist site in Washington, think again.
If you have ever wondered why Monet was so fascinated with painting water lilies, how a love for nature can be turned into a thriving career or why getting away from the hustle-and-bustle of the city can be therapeutic, then a trip to the Kenilworth Park and Aquatic Gardens, part of the National Capital Parks East of the National Park Service, is the walk in the park that you may be looking for….
Literally.
| | |
| --- | --- |
| | Geese make the ponds their home. Wildlife thrives in the park year-round. Kenilworth is home to birds, fish, turtles, frogs, snakes, beavers, muskrat and deer (Photo by Diana Gdula). |
Kenilworth is 12 acres of 44 ponds and 70 acres of protected wetlands. Man-made and raw aspects of the environment create a microcosm of our natural world.
Renee Strother, 32, is the visitor use assistant and has worked with the park for 10 years. She greets visitors and tells them the history of the park and other general information.
"Kenilworth consists of the pond area, a nature trail and a boardwalk that leads to the marsh," Strother said.
Together these components bring the Anacostia River to life.
"Kenilworth is someplace so pretty that you would never expect. It's our own secret garden," Strother said.
This thriving park experiences changes daily, but the gardens have a rich history behind them just as much as the memorials around the city do.
| | |
| --- | --- |
| The old greenhouse at the park (Photo by Diana Gdula). | |
An ancient civilization that used the land's resources once prospered on the parks wetlands. The waterworks of the park are an interconnection of pipes and dikes.
Grass pathways, called dikes, were used to block off a section of the Anacostia River, which is how the Kenilworth ponds were created. Dikes were also used to form the pond's varying shapes and sizes. The dikes are used for structuring the park, as well as keeping the plants healthy.
The pond's infrastructure runs through an underground interconnection of pipes that keep water flow constant. The pipe system allows each pond to connect to at least two other ponds the tidal marsh, which regulates water level in the ponds.
The pioneers of the park bring a unique background to the site. The gardens were created when Walter B. Shaw bought 30 acres of wetlands along the Anacostia River from his wife's parents in the 1880s. Seven more acres were given to him for free because they were deemed worthless.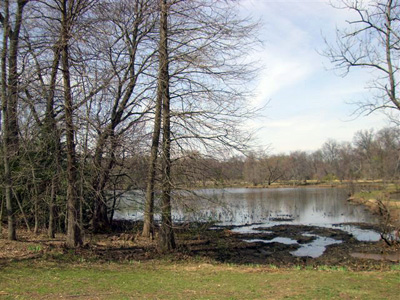 Shaw was an injured Civil War veteran who went on to write for the Treasury Department in Washington.
He decided that his home state of Maine had a beauty that his new home lacked, so he imported 12 white water lilies from Maine in 1882 and planted them in his abandoned ice pond.
His love of nature and blooming interest in hybridization influenced Shaw to dig more ponds. It was not long before the beautiful plants spread across the ponds.
His collection grew to 63 varieties, some of which could not be found elsewhere, which he shipped to other major cities in the northeast. Among the array of water lilies were a few that Shaw created himself, which are still grown and sold commercially.
As Shaw's interest in lilies grew, so did it spark his daughter's love for aquatic plants. Lucy Helen Fowler became an expert on the subject and took over management of Kenilworth in 1912.
For the sake of the business she became the first licensed female truck driver in Washington. From there she built greenhouses and the sales office. She marketed the flowers internationally, while adding such rarities to her collection such blue lilies from the Nile and the great Victoria lily from the Amazon.
Shaw died in 1921 after donating his water lily farm to the United States.
After much lobbying and with the support of former presidents, first ladies and the Kenilworth's Citizens Association the federal government bought the land for $15,000 in 1938 to save the park from being taken away by other groups.
| | |
| --- | --- |
| One of the many ponds at Kenilworth Park and Aquatic Gardens (Photo by Diana Gdula). | |
Many people know the sweet smell of a rose, but the water lily is more diverse in nature. It comes in many colors, sizes and smells. Its two main types are the tropical and the hardy.
Tropical water lilies are either day or night bloomers, while hardy lilies have a distinguishable round pad with smooth edges.
"Many Asians visit the park to admire the lotuses," Strother said.
The lotus is a spiritual, mythological and medicinal flower for the Asian culture.
Kate Bucco, 56, is a park ranger and has worked with the park since 1985.
"I do the tasks that nobody else will do," Bucco said. "This morning I was putting together handouts. Right now I'm trying to work our web page for distance learning. Later I might be picking up trash."
Bucco says that there are over 30 native species in the marsh. There are about a dozen hardy lilies, about a dozen tropical lilies and three or four kinds of lotuses.
Late Spring to early Fall is the best time to visit the park, but winter has a serene setting that is ideal for a brisk walk. The plants are stored in greenhouses to preserve them during the winter.
"This is a good place to study. You can talk and hear yourself. It's just pretty and it's important for people to get out into nature," Bucco said.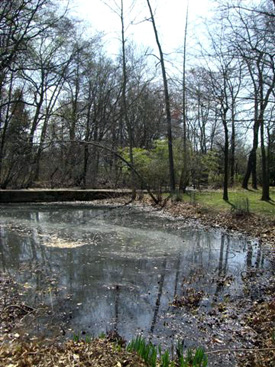 The National Park Service sponsors volunteer groups and classes at Kenilworth.
"We do river cleanups every other month," Strother said.
There is a Junior Ranger Program that teaches children about nature and park maintenance and provides them with summer activities like camping and crafts. The park is always looking for more volunteers.
The rangers customize programs to match what children are learning about in their classrooms.
"We offer classes from preschool to adulthood about everything from gardening to wildlife to plant identification," Bucco said.
Kenilworth's only downfall may be getting to the park. It can be hard to find, but Strother said that they have not heard complaints and should not be a problem to locate.
If the thought of relaxation and bliss are not enough to bring you to Kenilworth Aquatic Gardens, then maybe knowing that this is the only national park site dedicated to fostering aquatic plants and contributing to the spread of the water lily culture will convince you to trade in your metro pass for a drive to the gardens.
If You Go
Location: 1550 Anacostia Ave., NE, Washington, D.C., near the Maryland border along the Anacostia River.
Mail address: 1900 Anacostia Dr., SE, Washington, D.C., 20020.
Email: nacekag@nps.gov.
Phone: 202-426-6905, fax: 202-426-5991.
Hours: 7 a.m. to 4 p.m.
Visitor Center hours: 8 a.m. to 4 p.m.
Special events: Water Lily Festival is the last Saturday in July from 10 a.m. to 2 p.m.
Website: http://www.nps.gov/keaq/.
Admission is free. Tours run from Memorial Day to Labor Day. Groups of 10+ should make reservations.
Open everyday except Christmas, Thanksgiving and New Year's Day.
The park is best accessed by private automobile. The park cannot by accessed by Metro. Some taxis may not be willing to go to the park.