American Art Museum finds home
WASHINGTON, D.C. – Praised as "that noblest of Washington buildings" by famed American poet Walt Whitman, the old Patent Office Building stands valiantly at the corner of Eighth and F Streets downtown.
As visitors approach what is now called the Smithsonian Donald W. Reynolds Center for American Art and Portraiture—home to both the Smithsonian American Art Museum and the National Portrait Gallery—the structure's rich history seems to beckon the curious through its 35-foot tall columns, modeled after the Greek Parthenon.
| | |
| --- | --- |
| | People gather for the opening ceremony for the Smithsonian American Art Museum and the National Portrait Gallery (Photo courtesy of Robin Weiner, Smithsonian Institution). |
Constructed between 1836 and 1868 for more than $2 million, the building served as the U.S. Patent Office for nearly 100 years before it was saved from demolition and purchased by the Smithsonian Institution in the 1950s.
The Patent Office, which was the largest office building in the United States, covering 333,000 square feet and more than two city blocks, had become a tourist attraction as its thousands of patent models were put on display, earning it the name "Temple of Invention."
Its National Gallery housed paintings, sculptures, more than 5,000 natural history artifacts, as well as items brought back from Japan by Commodore Matthew Perry.
Also on display were the original Declaration of Independence, Benjamin Franklin's printing press and even Egyptian mummies.
Its history continued for generations as it become a temporary home to the First Rhode Island Regiment and a military hospital during the Civil War, Lincoln's second inaugural ball with more than 4,000 guests. It even suffered a catastrophic fire that partially destroyed two of the four wings in 1877.
In 1932 the Patent Office left the building, leaving it open for the Civil Service Commission to occupy and to cover the beautiful skylights, install fluorescent lighting, lay the marble floors with linoleum and paint the interior stone "institutional green."
| | |
| --- | --- |
| The modern and contemporary art collection is located in the Lincoln Gallery (Photo courtesy of Ken Rahaim, Smithsonian Institution). | |
In 1953, legislation was introduced in Congress to tear the building down and replace it with a parking garage, but an attempt to convince President Dwight D. Eisenhower of the structure's importance was successful and so it was saved.
On May 3, 1968, the American Art Museum opened with a formal dedication by President Lyndon B. Johnson and the Portrait Gallery, modeled after the National Portrait Gallery in London, opened five months later.
The building's deterioration was becoming more obvious by 1997. Water began flooding into the galleries from the attic's bursting pipes. Soon, the building was closed completely in 2000 for major renovations.
The museum staff moved to the Victor Building about a block away. The staff organized a grand tour of the United States for the collections during the time the building was closed.
In January 2000, the "Treasures to Go" tour was launched, which made 72 stops over a three-year period and was viewed by more than 1.7 million people.
In 2005, a "Highlights" tour visited 30 cities in 20 states and included five thematic exhibitions based on pieces from the museum's permanent collection.
"SAAM organized 14 exhibitions, [with] more than 1,000 objects total, based on aspects of the museum's permanent collection which traveled to 105 venues across the United States," Laura Baptiste, public relations officer for the museum, explained. "More than 2.5 million visitors saw the exhibitions."
| | |
| --- | --- |
| | A Library of Congress drawing of the "South Hall foyer" or "Great Hall," about 1887 (Image courtesy of the Smithsonian Institution). |
The museum opened to the public on July 1, 2006 with its new name, the Smithsonian Donald W. Reynolds Center for American Art and Portraiture, and 57,000 extra square feet of gallery and public space.
"Nearly 19,000 people visited the museum on its opening day," Baptiste said, adding it was a record for opening day attendance at a Smithsonian museum.
Both museums now share a main entrance on F Street and the G Street entrance serves tour groups and has access to the shared gift shop.
Renovations totaling $166 million in funds from the federal government enabled the building to be updated and historically preserved.
Hartman-Cox Architects of Washington, which has won two dozen awards for historic preservation, oversaw the renovations.
Entirely new electrical, plumbing, fire protection and security systems were installed as well as new elevators and an accessible entrance.
| | |
| --- | --- |
| Conservator Martin Kotler works on a frame in the Frames Conservation Studio of the Lunder Conservation Center (Photo by Ashley Davidson). | |
More than 550 windows coated with a UV/UB filter were installed to allow natural light to illuminate the building and serving as the primary light source while protecting the artwork. Each window also has a hand-blown exterior glass panel, creating the look of historic glass.
The original copper roofing material was restored and skylights were reopened, as well.
Consistent with 19th century design, marble floors were restored and white oak wood floors were installed in appropriate areas.
Four original tiles remain from the Great Hall and replicas were created in England, while all stone facades and interior columns were repaired and cleaned.
"Preserving the building to the highest standards was an important part of the renovation which balanced the needs with a 21st century museum," Baptiste said. "The Smithsonian's Office of Historic Preservation was involved at all stages of the project."
An additional $117 million in private donations served as the funding for four new features, including a one-of-a-kind conservation center.
The Lunder Conservation Center, covering 10,200 square feet on the third floor mezzanine and fourth floor of the museum building, allows the public a behind-the-scenes look at the conservation work of frames, paintings, photographs, sculptures, paper and various other items.
Visitors can look in on the work of five different studios through floor-to-ceiling glass walls and learn more through interactive kiosks and public programs about the importance of conservation.
| | |
| --- | --- |
| | The Paintings Conservation Studio of the Lunder Conservation Center (Photo by Ashley Davidson). |
Thirty-five conservation professionals were consulted and ideas were modeled after some of the country's best facilities.
A new 346-seat auditorium located on the museum's lower level is equipped with a state-of-the-art sound system, video and film projector.
The Nan Tucker McEvoy Auditorium is part of the museum's initiative to plan public programs, including lectures, films, theater, dance and music.
"We didn't have an auditorium or a place to get together with artists," said docent Betty Marcotte of the renovations and addition of the auditorium.
The Luce Foundation Center for American Art is the first visible storage center in Washington, adding nearly five times the number previously on display.
Sixty-four glass cases and drawers line three floors and contain more than 3,300 paintings, folk art, sculpture and crafts formerly in closed storage.
"The space can be a little overwhelming with 3,300 objects, but we encourage visitors to take their time," explained an employee giving a tour of the center, who did not want to be named.
She said the concept is to "get more American art on view."
| | |
| --- | --- |
| | The Patent Office Building, as seen in 1846 (Image by John Plumbwe Jr., from 1846, courtesy of the Smithsonian Institution). |
She also said there are only three other Luce Centers in the country. They are located at the Brooklyn Museum, Metropolitan Museum of Art and the New York Historical Society.
Children have an opportunity to play a scavenger hunt of the center, while parents either play along or browse the art.
"Parents say it's the best thing ever," the tour guide added.
Interactive computer kiosks serve as a point of interest as well as a research tool with information on each piece of art on display, including artist biographies, video clips and still images.
Visitors can create a "scrapbook" of their favorite images by simply clicking on a button to add the work to the scrapbook, e-mail it to themselves, then access the information from home.
The final addition, the Robert and Arlene Kogod Courtyard, will not be open until Nov. 18, 2007 and will be a renovation of the previous courtyard.
The courtyard will serve as a year-round public gathering space.
The interior is being designed by Kathryn Gustafson, of Seattle-based Gustafson Guthrie Nichol Ltd., while the glass courtyard enclosure is being designed by renowned architect Norman Foster of Foster and Partners in London.
Foster and Partners has previously won awards for their projects, such as the Great Court at the British Museum in London and the Reichstag, the New German Parliament in Berlin.
Since the museum's reopening, more than 650,000 people have visited, including 176,000 visitors so far in 2007 (January to March).
| | |
| --- | --- |
| The Luce Foundation Center for American Art ( Photo courtesy of Hugh Talman, Smithsonian Institution). | |
If You Go
8th and F Streets, NW, Washington, D.C. 20001
Open daily, 11:30 a.m. to  7 p.m., except Dec. 25.
Free admission.
Walk-in tours daily, group tours call 202-275-1693.
Metrorail Station: Gallery Place/Chinatown (Red, Yellow, Green lines); parking garages and limited meters around museum (http://www.wmata.com).
Information: 202-633-1000.
Accessibility: G Street entrance, elevators serve all areas of museum, wheelchairs available.
Photography permitted in permanent collection galleries only, flash and tripods prohibited.
http://www.reynoldscenter.org (links to both SAAM and NPG)
Renwick Gallery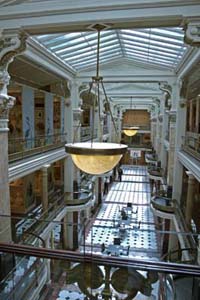 Pennsylvania Avenue and 17th Street, NW, Washington, D.C. 20006.
Open daily, 10 a.m. to 5:30 p.m., except Dec. 25.
Free admission.
Information: 202-633-2850.
Metrorail Station: Farragut West (Blue and Orange lines) and Farragut North (Red line).
Accessibility: 17th Street entrance, elevators serve all areas of gallery, wheelchairs available.
http://www.americanart.si.edu, calendar of events: http://americanart.si.edu/reynolds_center/calendar.cfm.
Library
Library located at 750 Ninth Street, NW.
Mondays to Fridays, 10 a.m. to 5 p.m., register at front desk in lobby with photo ID.
Information: 202-633-8230.
Ongoing Exhibitions
Eadweard Muybridge: The Central American Journey, through April 29, 2007.
Portraiture Now, through April 29, 2007.

Gifts to the Nation, through June 3, 2007.
Saul Seinberg: Illuminations, through June 24, 2007.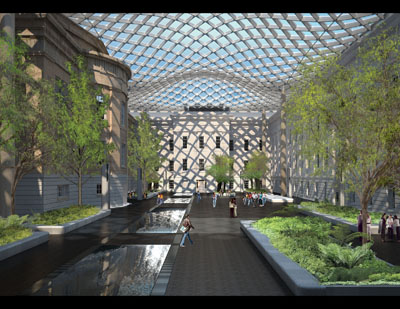 Temple of Invention: History of a National Landmark, through July 8, 2007.
Passing Time: The Art of William Christenberry, through July 8, 2007.
From the Ground Up: Renwick Craft Invitational 2007 (at the Renwick Gallery), through July 22, 2007.
The Presidency and the Cold War, through Jan. 1, 2008,
Americans Now, through Jan. 6, 2008.
For more exhibition information, visit http://www.americanart.si.edu/collections/exhibitions.cfml. Online exhibitions: http://www.americanart.si.edu/collections/online.cfm.