Shops offer variety that reflect San Juan
SAN JUAN, P.R. — Puerto Rico is sure to dazzle and inspire visitors with its multitude of colors — blues, greens and vibrant hues  adorn not only the island's scenery but its many shops and galleries.
The perfect shopper's choice for a two-day visit is undoubtedly Old San Juan, where everything is close and the historical homes and plazas grant a unique character to the shopping experience.
Whether the idea is to splurge on original Caribbean art and lacy, flowing attire, indulge fantasies in local poetry or take home a painting that recreate the brilliant colors and exotic ambience of the island, the Isla del Encanto has enough to whet any shopper's appetite. Below a list of my favorite Old San Juan shops.
| | |
| --- | --- |
| | The Cappalli Boutique in Old San Juan (Photo courtesy of Lisa Cappalli). |
Cappalli
206 Calle O'Donnell, San Juan, 787-289-6565
New York Parson's School of Design graduate Lisa Cappalli runs a creative boutique atelier that is known for its wide range of beautiful clothing designs — from day to evening, cocktail to formal, and baptism to wedding dresses on command. The native New Yorker is the daughter of the one of Puerto Rico's most prominent designers, Mili Arango.
Her shop is elegant and loungy and an ultra feminine style, soft and sensuous lines, and rich fabrics dominate Capalli's designs. Her shoes, bags, customized jewelry and hair accessories exhibit great craftsmanship.
| | |
| --- | --- |
| A mask sold at Eclektica (Photo courtesy of Richard Menadue). | |
Eclectika
205 Calle Cruz and 204 Calle O'Donnell, 787-725-3163, http:www.eclectikasanjuan.com
The name Eclectika reflects the diverse nature of the merchandise for sale at these two shops. Both locations are artfully decorated with a creative mix of inspirations from the Caribbean, Kathmandu and Bali — a blend of Indonesian and Spanish-colonial style with a touch of European flair. Hand-crafted Santos rub shoulders with ceremonial masks from cultures from around the world and shoppers will delight in unique artisan jewelry, colorful textile lamps, and solid teak furniture sources from exotic lands.
The stores are both close to large squares – Plaza de Armas, which used to be the drill square for the Spanish in colonial times, and Plaza Colon where the big statues of Christopher Columbus is at the entrance to Old San Juan.
The staff is fully bilingual and the English-Canadian owners, Richard and Claire Menadue, will ship merchandise anywhere in the world. Coconut bamboo exotic shells, carved wood banana bark, mother-of-pearl, tree wood and tagua nut are some of the key elements used in the confection of customized gifts that can be ordered for any occasion.
The Poet's Passage Store (Photo courtesy of Lady Lee Andrews).

.
Butterfly People
257 Calle de la Cruz, Old San Juan, 787-732-2432, http://www.butteflypeople.com
Exotic mariposas arranged in whimsical patterns in clear cases cover the walls of this shop, located in a beautifully restored colonial mansion. The butterflies are also fully preserved and mounted in sealed acrylic cases, engraved with the Butterfly People signature, and dated.
Environmentally-conscious shoppers will be relieved to learn that store complies with all applicable permit and licensing procedures — strictly enforced by the U.S. Fish and Wildlife Service.
Hence, the tropical butterflies used for the art come from farms and ranches around the world and have completed their life span. Staff assures clients that with proper care, they can retain their beauty indefinitely. Spices and sauces from around the Caribbean are sold along side kitchen items and cookbooks.
Obra Galeria Alegria
301 Calle Cruz, Esq. Recinto Sur, San Juan, 787-723-3226, http://www.obragaleria.com
Art lovers will indulge in the fine art and atmosphere offered by this air-bright, spacious gallery. The space is dedicated exhibitions to the paintings and sculptures of the great artists of Puerto Rican and international art, such as Spanish painter Jesus Maria del Rincon, who had his work in display in October 2007.
The exquisite gallery also exhibits also important contemporary painters and sculptors, like Domingo Garcia and Nick Quijano. Obra Galeria has been awarded the annual prize in the category of Collective Exhibition granted by Critics of the Puerto Rican Association of Art for three consecutive years.
José E. Alegría, founder of Obra Gallery, descends from a family deeply related to the Puerto Rican culture. His father, was a well-known collector of art, his grandfather Jose S. Alegría painted with Francisco Oller and Diaz Mackenna, his Uncle Jose "Popi" Alegría was proprietor of the leading gallery of art of Puerto Rico during the 1950s to 1980s, and the respected Don Ricardo Alegría, his uncle, known as the "father of the Puerto Rican culture" founder of the Institute of Puerto Rican Culture.
| | |
| --- | --- |
| Obra Galeria in Old San Juan (Photo by Juliana Accioly). | |
The Poet's Passage
203 Calle Cruz, San Juan, 787-567-9235, http://www.thepoetspassage.com
The 1,800 square foot Poet's Passage is located next to Starbucks Coffee in the Plaza de Armas in the center of Old San Juan. The space revolves around poetry the unique Puerto Rican craft. A selection of art, souvenirs, fine prints, books and Christmas ornaments are on display — the center of attention being the customized ceramic replicas of colorful doors of Old San Juan.
One can spend a whole day browsing through the wooden artifacts, maracas, masks and other items. Lady Lee Andrews, a local poet and writer, set up the store as a gallery to share with other local poets and the community. Her books and art are also in display and she hosts poetry open-mike nights on Tuesdays from 7 p.m. to 10 p.m.
| | |
| --- | --- |
| A colorful Caribbean-style handbag (Photo by Juliana Accioly). | |
Hecho a Mano
Calle San Francisco #260. San Juan, 787-722-0203
World music sets the tone for the shopping experience at this shop, specialized in customized jewelry in all shapes, sizes and colors that combine the use of seeds, wood and many textures in its artistry.
The selection is overwhelming and shoppers will find it hard to settle for only a couple of pieces. Dresses in unique prints made from thin cotton — casual attire suitable enough for a night out in the island — are a perfect buy for a weekend in Old San Juan.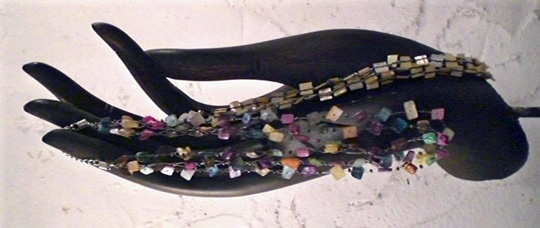 Customized Puerto Rican jewelry (Photo courtesy of Richard Menadue)

.