History buff turns tour leader at old forts
SAN JUAN, P.R.— Along Ponce de Leon Avenue in San Juan's Miramar neighborhood, several miles from the San Juan National Historic Site in Old San Juan, a grimy refreshment cart sat abandoned in an alcove one early November Saturday morning. Most passersby ignored it.
"If you come to P.R. and don't get a sno-cone," its sign warned, "then you have nothing of P.R."
The sno-cone enticement appeared to be ineffective, but the San Juan National Historic Site would do well to co-opt its form. After all, if you visit the historic site without following Park Ranger (and budding historian) Carlos Almodovar on a tour, then you have missed a special opportunity.
| | |
| --- | --- |
| An expressive San Juan National Historic Site ranger and interpreter, Carlos Almodovar, talks with park visitors at San Cristobal (Photo by Vincent Daniello). | |
Almodovar has worked at the site for eight years, the last two of which he has spent leading tours. He began by working in the site's archives and his knowledge of Old San Juan and its forts is extensive.
"My major was in history," Almodovar said, "so I had always wanted to do this."
His bachelor's degree came from Inter American University in San German. In addition to explaining the site to tour groups, Almodovar is still busy with schoolwork. He is currently studying in San Juan for a master's degree in history from the University of Puerto Rico and his academic plans extend further into the future.
"I would like to keep studying for my Ph.D.," Almodovar said. "I like to write a lot."
Almodovar plans tours and programs in conjunction with other park rangers and guides. The San Juan National Historic Site includes two forts in Old San Juan, San Cristóbal and San Felipe del Morro, but most of his tours are at the former facility.
As an experienced and well-educated ranger, Almodovar is an important resource for not only visitors of the park, but also new employees. Two men in ranger uniforms, Freddie Aledo and Dylan Anderson-Berens, took notes rapidly during a tour he recently led through San Cristóbal's tunnels. As new rangers, observing Almodovar is part of their training.
"He's been here quite a while," Deputy Superintendent Aleta Knight said, "and he really knows his stuff."
Employees are required to be bilingual, so relying on applicants from outside Puerto Rico would be difficult.
| | |
| --- | --- |
| Colorful Park Ranger Carlos Almodovar emphatically discusses the history of San Cristóbal with a tour group (Photo by Alcione Gonzalez). | |
"We have a really tough time getting people to come here [to work]," Superintendent Walter J. Chavez said.
A native of Yauco, a city in southwestern Puerto Rico, Almodovar can conduct tours in English or Spanish. Before a tour group, his enthusiastic animation transcends language.
His hands are articulate, constantly emboldening and italicizing his words. Describing air circulation in San Cristóbal to tourists ("you know, the hot air goes up"), he enacts it, alternately crouching and standing straight as he windmills his right arm.
On the tunnel tour that the new rangers observed, Almodovar broke a torrential sweat. The mid-afternoon temperature was formidable, in the upper 80s, but it was his gesticulation that coaxed out the moisture. Mixing imagined soldierly dialogue with standard tour narration, he led a rapt audience along a detailed investigation of San Cristóbal's cavities.
"Oh, God!" Almodovar cried dramatically, staggering out of one tunnel as an 18th Century soldier adjusting his eyes after a harrowing stay in the tunnel's enveloping darkness. "The light!"
Almodovar's "emerging soldier" character is not the product of mere speculation. He is proud to have navigated the dark tunnels himself—without any light, whether from the fluorescent bulbs on the ceiling or a flashlight. His own eyes have struggled to adjust to light. The soldiers he periodically impersonates on the tours would know San Cristóbal's tunnels blindfolded, so Almodovar does, too.
His intimate familiarity with the tunnels actually was not the result of historical curiosity, though. As a new ranger, Almodovar was initiated to the ranks when another site employee turned off the tunnel's lights and abandoned him.
"That was one of the worst experiences of my life. You can't even see your hands," Almodovar said. "The fear descended."
Almodovar has now conquered tunnels at the site three times without the aid of light. The second time was related to another prank, but he later decided to turn off the lights and test himself.
"I don't know how, but I got there really fast," Almodovar said, grinning as he pointed to the end of the tunnel with one hand and rapidly snapped his fingers three times with the other.
Not everyone is as cool in the dark as he, Almodovar warned his group before they embarked upon one particularly grim tunnel. Its ceiling dropped progressively lower until the modern tourists trailing him resembled Alice in Wonderland characters slouching toward a miniscule door. Before entering, Almodovar related a three-week-old story.
| | |
| --- | --- |
| | Left, Ranger Carlos Almodovar relates the history of a battlefield behind San Cristóbal to a tour group. San Juan's capitol building is in the background (Photos Lily Stofman). Below, Carlos Almodovar investigates the walls of a pitch-black tunnel through which he is leading a tour. |
On a tour much like the one about to commence, a female participant had a claustrophobic panic and fled. Dropping her flashlight, she ran and eventually found the open field above the tunnel.
"Be ready for it," were Almodovar's grave last words before he carefully removed his Stetson hat and stepped out of the sunlight.
"Lack of oxygen would be a problem for them," Almodovar later said of tunnel-bound soldiers to his group during a break deep within the tunnel, possibly at the point that drove the legendarily claustrophobic woman to run.
The tunnels he explores with tourists are intimidating, but any fear is usually overcome by Almodovar's charisma. He turns historical tours into explorations of a still-impenetrable fortress that is protecting a prized Spanish colony from marauding buccaneers. Before one bend in the tunnel tour, Almodovar encouraged the vacationers to imagine vicious attackers, not a visitor's center, around the corner.
"We're going to feel a breeze because of air conditioning (life is easier now), but imagine it being hot and humid," Almodovar reminded the group.
During most explanatory stops along his tours, Almodovar describes the experience soldiers would have had in San Cristóbal when it was a functional fort.
"The soldiers were small enough to fit here," Almodovar said in one tunnel, indicating a cove extending to his shoulders' height.
Almodovar emphasized that the average soldier was five feet tall and expected to help move two-thousand-pound cannons. His passion as a historian shone through during a soliloquy on the plight of Spanish soldiers who died centuries ago, tenderly reminding visitors that the soldiers could not benefit from insurance or government programs when their backs broke or legs were severed.
San Cristóbal, the fort in which Almodovar works, does not have an especially grand history. Constructing it was a 250-year endeavor, but 50 years after its completion, it sank into obsolescence. The Industrial Revolution produced ammunition and weapons technology too sturdy for the venerable fort to withstand.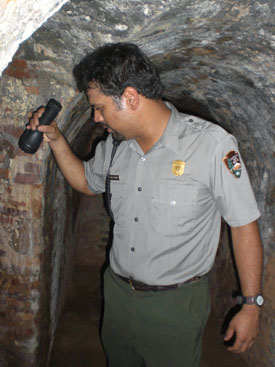 Almodovar compared the fort's brief period of usefulness to the current state of iPods and laptop computers, which are now frequently upgraded.
"Now," Almodovar said, "we are ready for that."
There was no similar expectation for rapid progress when San Cristóbal was under construction, but by the time it was completed, it was a stone giant visible throughout much of Old San Juan.
The fort's major significance is simply its dominant presence. While he acknowledges its limitations, Almodovar is resolute in his dedication to the monument of vanished Spanish imperialism.
"By the Spanish-American War in 1898," Almodovar told his tour group, "this was completely useless."
Nonetheless, Almodovar has absorbed its history both as a park ranger and scholar, and he transmits that knowledge to tourists through his enthusiasm. San Cristóbal did not last long as the evolutionary fortress its planners envisioned, but that does not matter to Almodovar. He just loves history.
If You Go
Ranger Carlos Almodovar currently leads three tunnel tours and three "outworks" tours of the back of San Cristóbal per week. The times vary on a weekly basis.
Admission to San Cristóbal is $3 for adults (people age 16 and older) and free for children (people younger than 16).
It costs $2 per hour to park at San Cristóbal.