A surprise adventure on Biscayne Bay
HOMESTEAD, Fla. — The day began bright and early and the sun's rays acted as a natural wake-up call. Very excited, I started calling everyone, making sure they were getting ready and reminding them not to say anything to the birthday boy.
After all, it was supposed to be a surprise.
One of my best friends, Rudy Baez, had his 24th birthday two days ago. Not only is he an outdoor enthusiast, but he has been yearning to go kayaking for as long as I can remember.
Sweltering hot temperatures, swarms of mosquitoes and conflicting schedules, all factors scowling up at us each time we've attempted to plan. This time we knew that everything would be, well, had to be, perfect. The winter months have brought us cooler, more pleasant weather, mosquito season has finally ended and everyone had today marked in their calendars a couple of weeks earlier.
| | | |
| --- | --- | --- |
| Right, Rudy Baez and Leslie Sandoval prepare for our first race on Biscayne Bay. Below, some of our members of our group paddling along the mangrove shoreline of the bay (Photos by Misha Vaidya). | | |
Shockingly, everyone got to my house on time, well equipped with sun block, hats and towels. Rudy, under the impression that we were going to the beach, remained blissfully unaware that in reality, we had planned a kayaking trip at Biscayne National Park.
Rudy's girlfriend, Leslie Sandoval, Tammy Cohen and I led the way and the other three cars and nine people followed. Making one quick petrol stop, it was only half an hour before we saw our surroundings completely change. The concrete buildings and noisy traffic turned into lush vegetation, farms and a quite stillness that left us a little bewildered.
The rare tranquility quickly ended. After getting to the Dante Fascell Visitor Center, informing the birthday boy of the plan, picking up our paddles, jackets and jumping into the bright yellow kayaks, the fun had officially begun.
With a selection of doubles and singles, my 11 friends and I paddled into the crystal clear waters of Biscayne Bay. I am well known for taking a lot of photographs, but considering the assortment of views and abundance of wildlife, it's no surprise that I outdid even myself.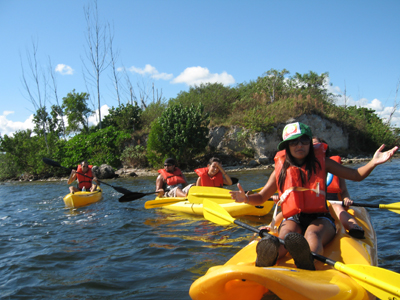 "Row, row, row your boat gently down the stream, merrily merrily merrily merrily, life is but a dream."
High-pitched singing, splashing indiscriminately and racing enthusiastically, made for an amazing day. Our aching arms were wonderful souvenirs of our healthy, energetic day at the park.
Not only did we all have an amazing time kayaking, but it was a really nice getaway from the stresses of our daily routines.
Rudy enjoyed himself thoroughly and wants to make group kayaking a more regular practice, while my sister Rima has decided to ask Santa for a kayak this year.
Our Biscayne National Park adventure was the perfect way to celebrate his birthday and also the perfect decoy for his surprise birthday party later on tonight!
Misha Vaidya
University of Miami M.A. '10